The Euroa Community Cinema is Strathbogie Shire Council-managed and is overseen by an operating committee made up of council staff and local volunteers. A group of dedicated community members volunteer their time to screen movies as projectionists and operating the kiosk and ticket box.
Note: children under 13 must be accompanied by a parent or guardian who is at least 16 years or older. 
Vote on upcoming film selections
& provide general Cinema feedback
Download a copy
of our current flyer
Now Showing
Screenings are held regularly on Saturdays at 7:30pm and Sundays at 4pm, unless otherwise stated. There are additional special screenings during the school holidays and on the first Friday of the month.
Tickets can be purchased online or in person from the cinema, unless otherwise stated.
EFTPOS available.
❄️Feeling a bit chilly at the cinema? Please feel free to bring a blanket to keep warm!
Even though we always have the heaters turned on, it can get a bit chilly during screenings in the colder weather.
This is due to the building being quite old (it was built in 1938!) and the cinema being in such a large space.
---
→ Click here for information regarding Classifications
Note: Regular screenings are cancelled on June 24-25.
---
Please note earlier Saturday start time of 7:30pm starting in April
Westwind: Djalu's Legacy [M] – FREE screening in commemoration of
Reconciliation Week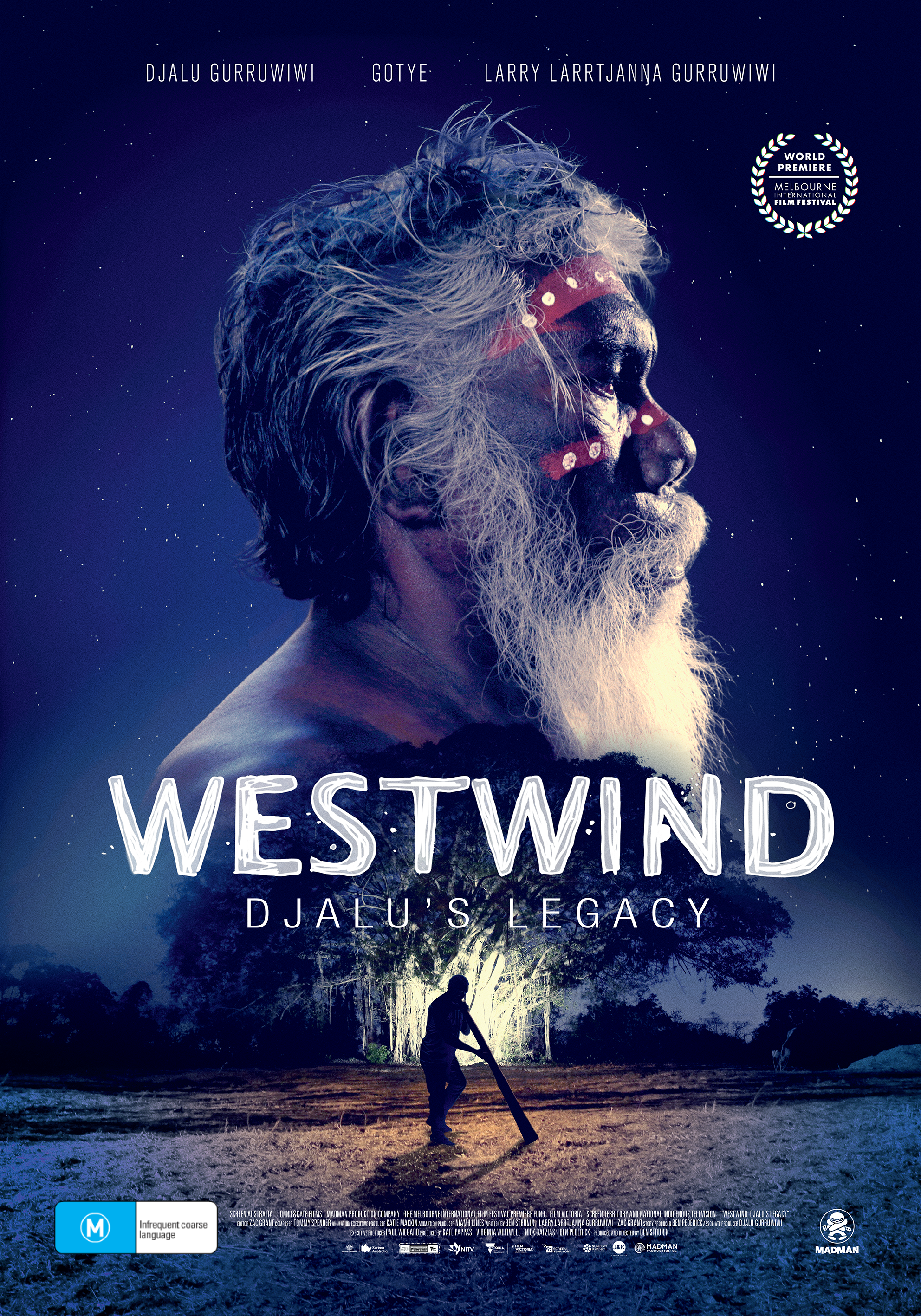 Screening times: Tuesday 30th May at 6pm
Bookings: https://events.humanitix.com/westwind-ecc
Note: online bookings close 2 hours before screening starts.
[M] Infrequent coarse language | Documentary | 87 minutes
Yolngu warrior, shaman and father Djalu Gurruwiwi, with some help from global pop star Gotye, must find a way to bring two worlds together to save his culture.
Djalu Gurruwiwi, an ageing Yolngu elder and master Yidaki (didgeridoo) player, is a custodian of his people's ancient Songlines that have stored his clan's Knowledge, Culture and Country since the birth of time. But Djalu is running out of time to pass on these Songlines, entrusted to him for the future of his people. His sons and community, struggling to come to terms with the consequences of colonisation, are lost. When Djalu breaks with tradition in an effort to save the Songlines, world-famous musician Gotye becomes an unexpected family member and helps amplify the songs to the world.
Director Ben Strunin spent more than five years documenting Djalu's journey, which ultimately manifests as one of his oldest Creation stories – the Wititj Songline that tells of two different serpents speaking together to maintain balance in the cycle of life. Supported by the MIFF Premiere Fund, the resulting film showcases this meeting of two worlds, where Western pop and Indigenous sacred songs become a common language used to transcend barriers.
---
A Good Person [MA 15+]
Screening times:
Saturday 3 June, 7:30pm and

Sunday 4 June, 4pm
Bookings: https://events.humanitix.com/a-good-person-ecc
[MA15+] Strong themes and drug use | Drama | 129 minutes
Allison is a young woman with a wonderful fiance, a blossoming career, and supportive family and friends. However, her world crumbles in the blink of an eye when she survives an unimaginable tragedy, emerging from recovery with an opioid addiction and unresolved grief. In the following years, she forms an unlikely friendship with her would-be father-in-law that gives her a fighting chance to put her life back together and move forward.
Cast: Florence Pugh, Morgan Freeman, Molly Shannon, Chinaza Uche, Celeste O'Connor.
---
Love Again [M]
Screening times:
Saturday 10 June, 7:30pm

Sunday 11 June, 4pm
Bookings: https://events.humanitix.com/love-again-ecc
[M] Course language | Romance, Comedy, Drama | 104 minutes
What if a random text message led to the love of your life? In this romantic comedy, dealing with the loss of her fiancé, Mira Ray sends a series of romantic texts to his old cell phone number… not realizing the number was reassigned to Rob Burns' new work phone. A journalist, Rob is captivated by the honesty in the beautifully confessional texts. When he's assigned to write a profile of megastar Celine Dion (playing herself in her first film role), he enlists her help in figuring out how to meet Mira in person… and win her heart. Starring Priyanka Chopra Jonas, Sam Heughan and Celine Dion and featuring multiple new songs from Dion, Love Again, written for the screen and directed by Jim Strouse.
Cast: Priyanka Chopra Jonas, Sam Heughan, Céline Dion, Omid Djalili, Celia Imrie and Russell Tovey.
---
Book Club: The Next Chapter [M]
Screening times:
Saturday 17 June, 7:30pm and

Sunday 18 June, 4pm
Bookings: https://events.humanitix.com/book-club-2-ecc
[M] Coarse language and sexual references | Comedy, Drama, Romance | 108 minutes
Synopsis: Book Club – The Next Chapter the highly anticipated sequel follows our four best friends as they take their book club to Italy for the fun girls trip they never had. When things go off the rails and secrets are revealed, their relaxing vacation turns into a once-in-a-lifetime cross-country adventure. The legendary quartet is reunited with returning icons Diane Keaton, Jane Fonda, Candice Bergen, and Mary Steenburgen starring alongside Andy Garcia, Don Johnson, and Craig T. Nelson. New cast joining will include Giancarlo Giannini, Hugh Quarshie and Vincent Riotta. The film is written by Bill Holderman and Erin Simms, with Holderman returning as Director.
Cast: Jane Fonda, Diane Keaton, Mary Steenburgen, Candice Bergen, Andy Garcia, Don Johnson.
---
June/July School Holiday program:
Guardians of the Galaxy Volume 3 [M] – Free Youth night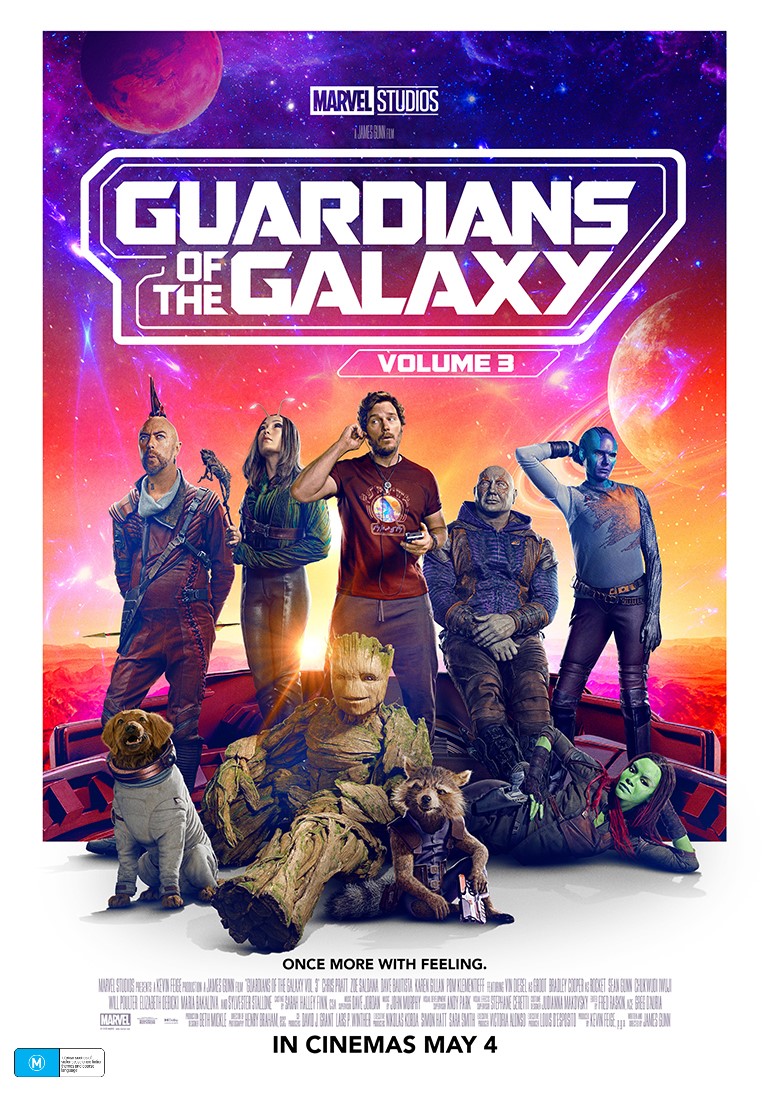 Screening times:
FREE Youth movie night | free food provided | Photosensitivity warning | please book for catering purposes
Bookings (online bookings close 1 hour prior to screening for this movie): https://events.humanitix.com/guardians-3-youth-night
Please note: Photosensitivity warning: 
" GUARDIANS OF THE GALAXY VOL. 3 contains several sequences with flashing lights which may affect customers who are susceptible to photosensitive epilepsy or have other photo sensitivities."
[M] Intense scenes of violence, science fiction themes and coarse language | Adventure, Action, Sci-Fi, | 150 minutes
In Marvel Studios Guardians of the Galaxy Vol. 3 our beloved band of misfits are looking a bit different these days. Peter Quill, still reeling from the loss of Gamora, must rally his team around him to defend the universe along with protecting one of their own. A mission that, if not completed successfully, could quite possibly lead to the end of the Guardians as we know them. James Gunn writes and directs Guardians of the Galaxy Vol. 3, which stars Chris Pratt, Zoe Saldana, Dave Bautista, Karen Gillan, Pom Klementieff, featuring Vin Diesel as Groot, Bradley Cooper as Rocket, Sean Gunn, Chukwudi Iwuji, Will Poulter and Maria Bakalova. Kevin Feige is the producer and Louis D'Esposito, Victoria Alonso, Nikolas Korda, Simon Hatt and Sara Smith serve as executive producers.
Cast: Bradley Cooper, Dave Bautista, Vin Diesel, Will Poulter, Chris Pratt.
---
Argonuts [G] –

($5 School Holiday movie)
Screening times:
Wednesday 28 June, 11am (Sensory Screening) and 3pm
Bookings (online bookings close 1 hour prior to screening for this movie): https://events.humanitix.com/argonuts-ecc
[G] Very mild animated violence and crude humour | Adventure, Animation, Family | 95 minutes
Argonuts invites you to embark with Pattie, a young super smart and adventurous mouse, and her cat-mate Sam on a colourful journey into Ancient Greece.
Alongside the – now old – hero Jason whose city is threatened by Poseidon himself, their quest will bring them and their fellow-friends to confront the most bizarre and dangerous creatures from this age of mythology. A hilarious and inventive comedy adventure for the whole family designed by the crazy team behind The Jungle Bunch and Pil's Adventures.
Cast: Sonja Ball, Kwasi Songui, Wyatt Bowen, Mark Camacho, Richard M Dumont.
---
The Little Mermaid [PG]  –

($5 School Holiday movie)
Screening times:
Wednesday 5 July, 11am (Sensory Screening) and 3pm
Bookings (online bookings close 1 hour prior to screening for this movie): https://events.humanitix.com/little-mermaid-ecc
[PG] Mild fantasy themes and violence, some scenes may scare young children | Family, Fantasy, Musical | 135 minutes
Synopsis:
The Little Mermaid, visionary filmmaker Rob Marshall's live-action reimagining of the studio's Oscar®-winning animated musical classic, opens exclusively in cinemas May 25, 2023. The Little Mermaid is the beloved story of Ariel, a beautiful and spirited young mermaid with a thirst for adventure. The youngest of King Triton's daughters and the most defiant, Ariel longs to find out more about the world beyond the sea and, while visiting the surface, falls for the dashing Prince Eric. While mermaids are forbidden to interact with humans, Ariel must follow her heart. She makes a deal with the evil sea witch, Ursula, which gives her a chance to experience life on land but ultimately places her life – and her father's crown – in jeopardy.
The film stars singer and actress Halle Bailey ("grown-ish") as Ariel; Jonah Hauer-King ("A Dog's Way Home") as Prince Eric; Tony Award® winner Daveed Diggs ("Hamilton," "Snowpiercer") as the voice of Sebastian; Awkwafina ("Raya and the Last Dragon") as the voice of Scuttle; Jacob Tremblay ("Luca," "Room") as the voice of Flounder; Noma Dumezweni ("Mary Poppins Returns") as Queen Selina; Art Malik ("Homeland") as Sir Grimsby; with Oscar® winner Javier Bardem ("No Country for Old Men," "Being the Ricardos") as King Triton; and two-time Academy Award® nominee Melissa McCarthy ("Can You Ever Forgive Me?" "Bridesmaids") as Ursula. The Little Mermaid is directed by Oscar® nominee Rob Marshall ("Chicago," "Mary Poppins Returns"), and produced by two-time Emmy® winner Marc Platt ("Jesus Christ Superstar Live in 2 Concert," "Grease Live!"), three-time Tony Award® winner Lin-Manuel Miranda ("Hamilton," "In the Heights"), Emmy winner John DeLuca ("Tony Bennett: An American Classic"), and Rob Marshall, with Jeffrey Silver ("The Lion King") serving as executive producer. The songs feature music from multiple Academy Award® winner Alan Menken ("Beauty and the Beast," "Aladdin") and lyrics by Howard Ashman, who together won two Oscars for the music in the animated "The Little Mermaid," and new lyrics by Lin-Manuel Miranda. The score is by Alan Menken, with music supervised and produced by Mike Higham ("Mary Poppins Returns," "Into the Woods").
Cast: Halle Bailey, Jonah Hauer-King, Awkwafina, Daveed Diggs, Jacob Tremblay, Melissa McCarthy, Javier Bardem.
Prices
Adults & Children: $10
Children under school age: free
Prepaid cinema tickets: $40 for five tickets (cannot be used for charity screenings)
Tickets can be purchased online or from the ticket box prior to the screening.
Online bookings close at 5pm Friday for movies screening on a Friday evening, or 11am Saturday for movies screening on Saturdays and Sundays.
Prepaid cinema tickets can be purchased from Council's Euroa offices at 109 Binney St, Euroa from 9am to 5pm, Monday to Friday.
EFTPOS is available at the cinema for both the ticket box and kiosk
Kiosk
The Euroa Community Cinema Kiosk is run by our dedicated volunteers. The kiosk is fully stocked with drinks, lollies, popcorn, and ice creams.
Hiring the Cinema
The cinema can be hired by members of the public and community groups to host a wide variety of events such as fundraisers, forums or concerts. If you are interested in hiring the cinema, please view the cinema hire form for details or contact our Customer Service Team on 1800 065 993.
Accessibility
The Euroa Community Cinema staff and volunteers strive to meet your accessibility needs. Please speak with the volunteers at the screenings for assistance, or alternatively you may call the Council's Customer Service Team before attending a screening on 1800 065 993.
A hearing loop is available for patrons with hearing aids or who are hearing impaired – please ask the volunteers if you require this on your arrival.
A social story has also been developed that can be altered as required for your visit to the cinema. Social stories are used for preparing people for situations before they happen.
If you have any other feedback regarding accessibility at the Euroa Community Cinema, please contact the Council so improvements can be made.
Volunteer
Strathbogie Shire Council is always on the lookout for cinema enthusiasts to join our team of volunteers. There are a variety of jobs currently undertaken by volunteers to keep the cinema running, such as selling tickets, projection and working in the kiosk. As one of our valued volunteers, you will of course get to view the movie screening free of charge. If you are interested in volunteering, contact our Customer Service Team on 1800 065 993 or click here to find our application form.
History
The Euroa Civic Centre Hall previously acted as a cinema (The Euroa Civic Theatre), until it ceased operation in the early 1980s. Given the relatively limited entertainment opportunities, particularly for children and youth within Euroa and the wider district, the idea of restoring the Euroa Civic Theatre to its former glory was born.
Council received State Government funding from the Regional Arts Infrastructure Allocation – Regional Cinemas Program to upgrade the hall. The total cost of the project was approximately $80,000 which was co-funded by Council and the government on a dollar-for-dollar basis. After a lot of hard work by community members and Council staff, the Euroa Community Cinema was opened in November 2003.
Initially films were shown once every month, however screenings increased after sufficient demand. The cinema has now transitioned to a digital format and screens movies Saturday evenings and Sunday afternoons, with additional screenings throughout the year.