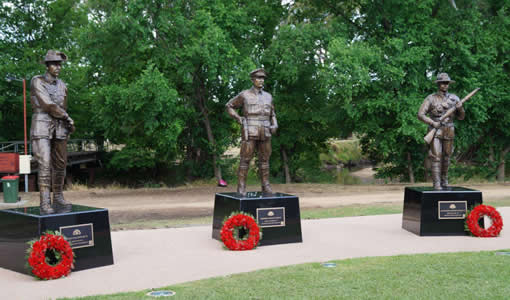 The Euroa area is thought to have been occupied by the indigenous Ngurelban tribe prior to European settlement and there is an important Aboriginal art site in the Gardens Range, 10 km south-east of town.
It is presumably from their language that the town's name derives. 'Yera-o' is said to mean 'joyful'.
The first white men in the district were explorers Hume and Hovell (1824). Thomas Mitchell followed in 1837, then drovers bringing their stock through an area to the north of the present town site along a track he cut at the time.
Squatters began taking up runs in the district in 1838. One of the first was Seven Creeks, established by Janet Templeton in 1838. It was at Seven Creeks that the first fine-wool Saxon merino sheep in Victoria were introduced in 1851 by Eliza Forlonge who had selected the sheep in Saxony.
Euroa earned its place in history as a premier wool-growing community. Euroa became well known as one of Australia's premium wool producing communities and the town remains closely connected with the wool industry, each year celebrating its success during the Wool Week Festival held in October in conjunction with the Agricultural Show.
During the gold rush Euroa became a regular coach stop between Melbourne and Beechworth. Cobb & Co travellers on the way to Sydney also used Euroa to take rest and be revived by the permanent water supply of the Sevens Creek.
The district's success and prosperity drew the attention of Australia's most famous bushranger, Ned Kelly. Together the Kelly Gang – Ned, brother Dan and Steve Hart - robbed the Euroa Bank in 1878 of 2000 pounds in cash & gold (Ties to the Kelly clan run deep in the district, with Ned's father Red Kelly buried in the nearby Avenel Cemetery)
Plenty of reminders about Euroa's colourful past are evident in the historical buildings and memorials.
Walk Euroa's Heritage Trail and be led to all the significant buildings and places which have played their role in creating such a colourful picture of Euroa's fascinating history.
Website: www.euroa.org.au
Accommodation
Castle Creek Motel
Howard & Kate Argus
53 Clifton Street Euroa
03 5795 2506
This email address is being protected from spambots. You need JavaScript enabled to view it.
www.castlecreekmotel.com.au

Peaceful Garden setting. Short drives to Wineries and Lakes.
17 Clean, comfortable units. Reasonable rates.
Full or continental breakfasts.
Pool & BBQ. All Queen sized beds. Microwaves, toasters and kettles supplied.
---
Euroa Butter Factory
Rebecca Gannon
79 Boundary Road North Euroa
03 5795 1408
This email address is being protected from spambots. You need JavaScript enabled to view it. www.euroabutterfactory.com.au

Built in 1901, this beautiful historic building set on 5 acres has been lovingly transformed into modern five star warehouse-style accommodation and function spaces.
The property is a 5 bedroom, fully licensed bed and breakfast.
The gardens and courtyards around the property provide beautiful spots to sit and enjoy a glass of regional wine.
Guests enjoy breakfast in the old milk delivery room of the factory, with the flagstones, loading bay and some of the old machinery still visible.
Dinner and any other catering can be organised by prior arrangement
---
Euroa Caravan Park
73-103 Kirkland Avenue Euroa
03 5795 2160
This email address is being protected from spambots. You need JavaScript enabled to view it.
www.euroacaravanpark.com.au
www.facebook.com/euroacaravanpark
The Euroa Caravan and Cabin park sits in a parkland setting with the magnificent "Sevens Creek" running the full length of the park and water side sites available on both sides of the creek.
Having in excess of 60 overnight powered sites, a large camping area the park also provides accomodation in a range of self contained cabins, standard units and vans.
The park also caters for annual sites for people looking for a weekender or holiday periods
---
Euroa Motor Inn
Richard & Lis Fletcher
87-95 Tarcombe Street Euroa
03 5795 2211
This email address is being protected from spambots. You need JavaScript enabled to view it.
www.euroamotorinn.com.au
All rooms now fully refurbished with modern facilities.
Located 2 minutes north end of the CBD off the Hume Freeway, 1.5 hours from Melbourne and only 75 minutes from Tullarmarine airport.
Close to restaurants, hotels and shops. Scenic drives nearby Strathbogie Ranges.
Twelve Self Rated 4 star units all ground floor complete with split system air conditioners, electric blankets, queen size beds, colour TV, refrigerator, tea & coffee making facilities.
All rooms are non smoking. Pool, trailer and truck parking area.
---
Forlonge B&B
Jenny & Michael Tehan
76 Anderson Street Euroa
03 5795 2460
This email address is being protected from spambots. You need JavaScript enabled to view it.
www.forlonge.com.au
Forlonge Bed & Breakfast is a 4 1 /2 AAA star B&B situated in the heart of Euroa in a delightful garden setting.
Specialty breakfasts. Two Suites. Garden suite - King room with ensuite spa. Conservatory suite -2 bedroom with sitting room & breakfast room. Garden setting. Off-street parking
---
Holistic Haven
Lyn Newnham
26 Hunter Street Euroa
0428 211 535
This email address is being protected from spambots. You need JavaScript enabled to view it.
www.holistichaven.com.au
Holistic Haven provides quality B&B accomodation for your enjoyment and relaxation of if you wish, take your mind, body and soul to a deeper level with our range of treatments and therapies.
A place to stay in Euroa for a weekend romantic getaway - Healthy rejuvenating break
Nagambie can trace its history back to explorer Thomas Mitchell who crossed the Goulburn to the South West at what became Mitchellstown.
Overlanders followed in his footsteps and used the same river crossing, as did the postman on the mail route from Melbourne to Sydney, established in 1838.
A hotel, church and blacksmith were set up to cater to the through traffic of teamsters journeying along the river system to Adelaide.
A township was surveyed in 1868 and land sales proceeded in 1870 before it was proclaimed as the private town of 'Nagambie' in 1872, said to be derived from a local Aboriginal word meaning 'lagoon'. Named from water, water has always been an integral element of Nagambie then and now.
Only 90 minutes' drive from Melbourne, the town offers a warm, Mediterranean-style climate and a constant water supply in its lake, lagoons and wetlands fed by the Goulburn River.
The nearby Goulburn Weir, completed in 1891, was the first major diversion structure built in Australia and remains a remarkable feat of engineering that uses the Goulburn River to irrigate half a million hectares of farmland.
Not far away are the beautiful old, timber Kirwan's Bridge and the 'strutted stringer' style drawbridge, Chinaman's Bridge.
Take a boat up the Goulburn River and see an amazing variety of bird life while a trip through the restored wetlands at Tahbilk Estate is an inspiring way to understand how much life Nagambie Lakes supports.
Turning water into wine, two of Victoria's premium wineries are nearby Nagambie. Tahbilk Estate, established in 1860 - Victoria's oldest family owned winery - is home to some of the oldest Shiraz and Marsanne vines in the world, as well as having buildings and surrounds much unchanged from its early days.
Further down the Goulburn River, highly regarded Mitchelton Wines with its distinctive & impressive tower and lookout and spacious grounds, offers a wonderful contemporary contrast to the Tahbilk offering
Website: www.nagambielakestourism.com.au
Accommodation
Grassy Plains
Sue McKinnon
341 Spring Creek Road Graytown
03 9714 8529
This email address is being protected from spambots. You need JavaScript enabled to view it.

Eco Tourism type accommodation - huge area of natural habitat.
Next door to Grawtown National Park.
Two bedroom self contained house with wood fire heater situated on 50 acres.
---
On Goulburn Ponds
Michelle Cantlin
26 Mcleod Street
0418 322 241
Kirwans Bridge Our lakeside holiday home is spacious, fully-furnished, clean and comfortable, making your stay in this lovely part of Victoria relaxing and enjoyable.
The house has magnificent views of the Goulburn River and Nagambie Lakes area, and is surrounded by an abundance of native flora and fauna.
Inside, the open living room, dining and kitchen areas are large enough to cater for nights in, barbecues, and family time with the kids.
The kitchen is fully-equipped for cooking and serving, while the living room opens out onto the patio and barbecue area for entertaining.
Bedroom one has a queen-sized bed, while bedroom two has one double bed and one single bed, comfortably accommodating families, two couples, or a small group.
Overall, our holiday house is ideal for active families, couples and small groups who want to make the most of their holidays and time off, all the while enjoying stunning views, water sports, relaxing barbecues and dinners, and a great tourism and recreation region.
---
Nagambie Lakes Entertainment Centre - The Valley Hotel
Zach Spahich
301-305 High Street Nagambie
03 5794 2747
This email address is being protected from spambots. You need JavaScript enabled to view it.

Magnificent views of Lake Nagambie, from the bistro and beer garden you can sit and watch the start of the rowing events!
Meals available seven days per week for lunch and dinner. Bookings preferred.
Backpacker/budget style bunk rooms available upstairs.
Total of 13 rooms with twin and quad share bunk beds, able to accommodate 48 people in total, with shared bathroom facilities.
Check in from 12noon, and check out 10am or by arrangement.
---
Barong on the Water
Sandra Winter-Irving
164 Vickers Road Nagambie
0418 101 078
This email address is being protected from spambots. You need JavaScript enabled to view it.
www.barongonthewater.com.au
A short trip from the heart of Melbourne and you feel worlds away from the hustle and bustle of the city, a small paradise that is completely exclusive for guests.
Barong on the Water is an old style farm cottage offering a home-away-from-home experience, including all the modern luxuries.
The house includes 1 ensuite connected to the master bedroom and a second, larger bathroom.
For bookings please go to www.stayz.com and our reference #152731
---
Centretown Motel
Bernadette Webb
266 High Street Nagambie
03 5794 2511
This email address is being protected from spambots. You need JavaScript enabled to view it.
Centretown Motel, Nagambie, offers comfortable accommodation for the budget conscious, in the heart of Nagambie.
Sixteen ground floor units with ample car parking space in front of each unit.
All rooms are well appointed and offer comfort on a budget.
Pool and BBQ facilities.
Laundry facilities available.
Easy walk to Lake Nagambie and shopping centre and eateries.
---
Kirwans Bridge Winery & Receptions
Anne Hubbard
82 Kirwans Bridge-Longwood Road Nagambie
0408 035 155
This email address is being protected from spambots. You need JavaScript enabled to view it.
www.kirwansbridgewinery.com.au
Kirwan's Bridge Winery & Receptions is a modern show piece facility overlooking peaceful wetlands and treelined Goulburn River.
The venue is light and spacious and can cater for up to 200 guests sit down or 350 for cocktails.
Luxury self catered camping is also available onsite with 10 large dome tents with comfortable mattresses and linen provided on a carpeted base.
The tents are located inside the extensive basement/cellar area of our reception centre, so the temperature is a consistent 17degrees celcius all year - and out of the weather.
Byo food, but tea and coffee is provided, along with showers, disabled facilities, toilets, and a shared kitchen and eating area in which to relax and chill out.
Experience a different type of camping at Kirwan's Bridge Winery - casual, fun and relaxed!
---
Nagambie Guest House
Beverley
Nagambie
0439723121
This email address is being protected from spambots. You need JavaScript enabled to view it.
"Nagambie Guest House" offers: Short stay home based accommodation, 400 metres from Lake Nagambie, 600 metres from supermarket, 1 km along lakeside boardwalk to town centre.
Suit single or couple in queen bedroom with ensuite and walkin robe.
Off street parking. Lovely fully furnished home. Discuss accommodation requirements with owner.
---
Nagambie Lakes Leisure Park
Katheryn Bryers
69 Loddings Lane Nagambie
03 5794 2373
This email address is being protected from spambots. You need JavaScript enabled to view it.
www.nagambielakespark.com.au
Looking for a haven close to Melbourne where you can just kick back and recharge the batteries?
Maybe a getaway for the entire family with an abundance of activities: jumping pillow, playgrounds, large pool, games room, something for everyone in, on or out of the water.
---
Nagambie Motor Inn & Conference Centre
Craig & Lauri Carter
185 High Street Nagambie
03 5794 2833
This email address is being protected from spambots. You need JavaScript enabled to view it.
www.nagambiemotorinn.com.au
Where the city meets the country, just 90 minutes from Melbourne.
The only King beds in Nagambie!
Plus Queen, Family, Spa and Disability suites.
Meeting facilities, pool, picturesque gardens, and undercover outdoor BBQ area
---
Nagambie Waterfront Motel
Charlie & Nola
277-279 High Street Nagambie
03 5794 1410
This email address is being protected from spambots. You need JavaScript enabled to view it.
www.nagambiewaterfrontmotel.com.au
26 comfortably appointed rooms at our 4 STAR property in the heart of Nagambie township right on the shores of beautiful Lake Nagambie, and just 90 minutes from Melbourne.
Enjoy a meal in our modern Waterfront bistro, with sunset views of the Lake Nagambie (Group or Function bookings only)
---
The Boathouse
0408 570 760
www.theboathousenagambie.com
The Boathouse Nagambie offers beautiful self-catering holiday accommodation, set on the shores of Nagambie Lakes and just a five minute drive from the town.
Set within relaxing gardens, with your own private waters edge.
---
The Gambie
Geoff & Lucy Still
5 Suzanne Crt Nagambie
0418 558 058
This email address is being protected from spambots. You need JavaScript enabled to view it.
Modern holiday house for rent in Nagambie.
Three bedrooms, sleeps 8 total.
One queen bed, two double beds, and one set of bunks - (double on the bottom,single above) plus 1 single. Linen provided.
Pool table, LCD/Plasma TV's, wood heater, split system heating/cooling and lovely large rear deck overlooking dam, ( great for yabbies).
Partly covered outdoor entertaining deck with s/steel BBQ.
Short walk to the centre of town.
---
The Gatehouse Cottage
Clare & Tim Purbrick
491 Nook Road Nagambie
03 5794 2303
This email address is being protected from spambots. You need JavaScript enabled to view it.
www.gatehousecottage.com
The cottage is furnished as a fully equipped private house, consisting of a large sitting room, a dining room and a kitchen, plus one master double bedroom, one smaller double bedroom and a twin bedroom, all with their own bathrooms.
The establishment is self catering, although linen and provisions for a light breakfast are supplied.
Additional provisions can be provided upon request.
The Gatehouse is unsuitable for children and pets are not allowed.
The Gatehouse Cottage, which is one of Nagambie's best kept secrets, is surrounded by attractive gardens and has a tennis court, croquet lawn and petanque terrain.
---
The Jetty Apartments
317 High Street Nagambie
03 5794 2189
This email address is being protected from spambots. You need JavaScript enabled to view it.
www.thejetty.com.au
Executive Style Living.
Five luxury self contained two and three bedroom apartments, with water front views and direct private access Lake Nagambie.
Property features infinity edge swimming pool, private beach, indoor spa, cafe, winebar and Restaurant in central location.
Less than 90 minutes from Melbourne with off street parking.
---
Upstairs At Harris Hill Apartments
Anne Hubbard
Lobbs Lane Nagambie
0408 035 155
This email address is being protected from spambots. You need JavaScript enabled to view it.
www.nagambielakesreceptions.com.au
Upstairs at Harris Hill is a private and elegantly furnished two bedroom farm stay apartment, overlooking the vines of Kirwan's Bridge winery and receptions.
The ideal place for a romantic getaway for two or a trip away with friends.
This self contained and recently re-furbished apartment has open plan kitchen/living area, two bedrooms (one Queen bed, one double bed), bathroom and separate toilet, and west facing balcony verandah.
Linen is provided, plus tea and coffee.
You are welcome to self cater, or dine at any of the great eateries in nearby Nagambie.
Your comfort is assured in all seasons with reverse cycle air-conditioning and a large plasma tv and dvd player, (plus a selection of classic movies).
Enjoy rural views from your private second floor verandah as the sun sets on this peaceful paradise.
Picnics and wine hampers or breakfast provisions available on request.
---
Young Bride Accomodation
Jenny Gurr
7 Young Street Nagambie
03 5794 1558
This email address is being protected from spambots. You need JavaScript enabled to view it.
www.youngbrideguesthouse.com
Step back in time & relax in this fully serviced 3 bedroom home close to all local wineries & Lake Nagambie.
Also available a well-blended 2 storey apartment extension with balcony and water views.
Facilities Include: Cottage Sleeps 7 in three bedrooms, whole house sleeps 9 (with upstairs master and ensuite), full bedding and towels provided, modern bathroom and two toilets, fully equipped kitchen and dinning, heating and cooling, private garden BBQ area, fully fenced, 5 minute walk to town and lake.
---
Hide & Seek
204 Murchison Goulburn Weir Rd. Kirwans Bridge
03 5794 1800
0412 310 213
www.hideandseekwinery.com
Luxury waterfront retreat 90 minutes from Melbourne. A private sanctury, the sand beaches, nature walks and vineyard also includes water sports, tennis courts, boating facilities, playground, trampolines and produce gardens. An impressive, modern two story guesthouse, ideal for get-together with friends and family. Has woodfires, open living kitchens and private suites all with jaw-dropping water views.
---
Goulburn Weir Holiday Units
187 Goulburn Weir Road
Nagambie VIC 3608
03 5794 7221
This email address is being protected from spambots. You need JavaScript enabled to view it.
www.goulburnweirunits.com.au
Goulburn Weir Holiday Units offers guests the opportunity to throw in a line from any part of its water frontage, while sitting under the weeping willows reading in a most peaceful and tranquil setting.
Just an easy 'all Highway' drive from Melbourne's northern suburbs to the centre of the Nagambie Lakes Wine Region, where you will find a completely different world, away from the pressures and stress of daily life.
Goulburn Weir Holiday Units is a 'Retreat' in the heart of the magnificent Nagambie Lakes Wine Region's vineyards and horse studs.