IMPORTANT NOTE
In line with advice from the Victorian Government and the Australian Government, there may be some changes to trading hours and operations. Please contact vendors directly for specific information.
The Strathbogie Shire is an easy place to fall in love with...
Perfectly located in the heart of country Victoria, Strathbogie offers everything from the clear calm waters of our lakes and rivers to stunning views from the heights of our ranges.
Only a ninety minute drive from Melbourne, Strathbogie Shire townships of Nagambiem Avenel, Euroa and Violet Town are accessible by public transport on the North-East line. So sit back, relax and enjoy your journey by starting that book you have wanted to read in a long time.
Why not make a visit to one of our charming villages, sip a cuppa in the sunshine and enjoy our relaxed country lifestyle and hospitality. Have a chat to the locals who may tell you a historic tale of infamous bushranger Ned Kelly, who was born and raised in Avenel.
Alternatively, pick up some magnificent fresh produce to take home from one of the many local markets, or enjoy a glass of wine from one of many revered local wineries.
You can bring the kids, your family and friends, the dog and set up camp, or enjoy the more comfortable setting of a hotel, motel or bed and breakfast.
Strathbogie Shire's parks and rivers are pristine and will provide the perfect place for you, the kids and your furfriends to roam free.
Love the lifestyle. Love the outdoors. Love the location. Love Strathbogie.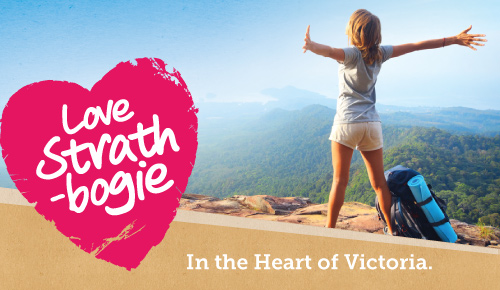 Goulburn River and Strathbogie Ranges Official Visitors Guide
Visiting our stunning region by either car, train or bike, travelling arounnd and exploring the area can be done by using one of the major roads, rail or highway networks. Alternatively, you can slow down bit, explore 'the road less travelled' to see what adventures you may discovefr along the way!
Railway stations are located in the townships of Avenel, Euroa, Nagambie, Seymour and Violet Town. Check out the Vline or PTV website for timetable details www.ptv.vic.gov.au/journey
Our region has earned a reputation as an outstnading area for both breeding and traning horses and it is the Birthplace of a Legend - Black Caviar, now immortalised in bronze in the heart of Nagambie, visitors can admire the power of Black Caviar in full flight and learn more about her story at the Nagambie Visitor Information Centre just next door.
Download a PDF version of the Official Visitors Guide here.