The Euroa area is thought to have been occupied by the indigenous Ngurelban tribe prior to European settlement and there is an important Aboriginal art site in the Gardens Range, 10 km south-east of town.
It is presumably from their language that the town's name derives. 'Yera-o' is said to mean 'joyful'.
The first white men in the district were explorers Hume and Hovell (1824). Thomas Mitchell followed in 1837, then drovers bringing their stock through an area to the north of the present town site along a track he cut at the time.
Squatters began taking up runs in the district in 1838. One of the first was Seven Creeks, established by Janet Templeton in 1838. It was at Seven Creeks that the first fine-wool Saxon merino sheep in Victoria were introduced in 1851 by Eliza Forlonge who had selected the sheep in Saxony.
Euroa earned its place in history as a premier wool-growing community. Euroa became well known as one of Australia's premium wool producing communities and the town remains closely connected with the wool industry, each year celebrating its success during the Wool Week Festival held in October in conjunction with the Agricultural Show.
During the gold rush Euroa became a regular coach stop between Melbourne and Beechworth. Cobb & Co travellers on the way to Sydney also used Euroa to take rest and be revived by the permanent water supply of the Sevens Creek.
The district's success and prosperity drew the attention of Australia's most famous bushranger, Ned Kelly. Together the Kelly Gang – Ned, brother Dan and Steve Hart - robbed the Euroa Bank in 1878 of 2000 pounds in cash & gold (Ties to the Kelly clan run deep in the district, with Ned's father Red Kelly buried in the nearby Avenel Cemetery)
Plenty of reminders about Euroa's colourful past are evident in the historical buildings and memorials.
Walk Euroa's Heritage Trail and be led to all the significant buildings and places which have played their role in creating such a colourful picture of Euroa's fascinating history.
Website: www.euroa.org.au
Accommodation
Castle Creek Motel
Howard & Kate Argus
53 Clifton Street Euroa
03 5795 2506
This email address is being protected from spambots. You need JavaScript enabled to view it.
www.castlecreekmotel.com.au

Peaceful Garden setting. Short drives to Wineries and Lakes.
17 Clean, comfortable units. Reasonable rates.
Full or continental breakfasts.
Pool & BBQ. All Queen sized beds. Microwaves, toasters and kettles supplied.
---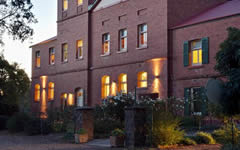 Euroa Butter Factory
Rebecca Gannon
79 Boundary Road North Euroa
03 5795 1408
This email address is being protected from spambots. You need JavaScript enabled to view it. www.euroabutterfactory.com.au

Built in 1901, this beautiful historic building set on 5 acres has been lovingly transformed into modern five star warehouse-style accommodation and function spaces.
The property is a 5 bedroom, fully licensed bed and breakfast.
The gardens and courtyards around the property provide beautiful spots to sit and enjoy a glass of regional wine.
Guests enjoy breakfast in the old milk delivery room of the factory, with the flagstones, loading bay and some of the old machinery still visible.
Dinner and any other catering can be organised by prior arrangement
---
Euroa Caravan Park
73-103 Kirkland Avenue Euroa
03 5795 2160
This email address is being protected from spambots. You need JavaScript enabled to view it.
www.euroacaravanpark.com.au
www.facebook.com/euroacaravanpark
The Euroa Caravan and Cabin park sits in a parkland setting with the magnificent "Sevens Creek" running the full length of the park and water side sites available on both sides of the creek.
Having in excess of 60 overnight powered sites, a large camping area the park also provides accomodation in a range of self contained cabins, standard units and vans.
The park also caters for annual sites for people looking for a weekender or holiday periods
---
Euroa Motor Inn
Richard & Lis Fletcher
87-95 Tarcombe Street Euroa
03 5795 2211
This email address is being protected from spambots. You need JavaScript enabled to view it.
www.euroamotorinn.com.au
All rooms now fully refurbished with modern facilities.
Located 2 minutes north end of the CBD off the Hume Freeway, 1.5 hours from Melbourne and only 75 minutes from Tullarmarine airport.
Close to restaurants, hotels and shops. Scenic drives nearby Strathbogie Ranges.
Twelve Self Rated 4 star units all ground floor complete with split system air conditioners, electric blankets, queen size beds, colour TV, refrigerator, tea & coffee making facilities.
All rooms are non smoking. Pool, trailer and truck parking area.
---
Forlonge B&B
Jenny & Michael Tehan
76 Anderson Street Euroa
03 5795 2460
This email address is being protected from spambots. You need JavaScript enabled to view it.
www.forlonge.com.au
Forlonge Bed & Breakfast is a 4 1 /2 AAA star B&B situated in the heart of Euroa in a delightful garden setting.
Specialty breakfasts. Two Suites. Garden suite - King room with ensuite spa. Conservatory suite -2 bedroom with sitting room & breakfast room. Garden setting. Off-street parking
---
Holistic Haven
Lyn Newnham
26 Hunter Street Euroa
0428 211 535
This email address is being protected from spambots. You need JavaScript enabled to view it.
www.holistichaven.com.au
Holistic Haven provides quality B&B accomodation for your enjoyment and relaxation of if you wish, take your mind, body and soul to a deeper level with our range of treatments and therapies.
A place to stay in Euroa for a weekend romantic getaway - Healthy rejuvenating break
---
Jolly Swagman Motor Inn
28 Clifton Street Euroa
5795 3388
This email address is being protected from spambots. You need JavaScript enabled to view it.
www.jollyswagmanmotorinn.com.au
The boutique traditional motel is located in the heart of Euroa. Guests can enjoy unlimited free wi-fi and a beautiful outdoor swimming pool. All guest rooms are air-conditioned and have a flat screen TV with Foxtel, a fridge and a toaster, ironing facilities and a bathroom with free toiletries. Microwave ovens and sofas are available in some rooms.
Guests can share a meal using the BBQ facitilites, and there is also shared laundry facilities.
Jolly Swagman Motor Inn is a 3 minute drive from the Euroa Main Street, Euroa Golf Club, Euroa Butter Factory, and Strathbogie Shire Council.
---
The White House Euroa
Sue Burnett
94 Binney St Euroa

0438 270 357
This email address is being protected from spambots. You need JavaScript enabled to view it.
www.thewhitehouseeuroa.comThis email address is being protected from spambots. You need JavaScript enabled to view it.
The White House Euroa is a stately home which was originally built in 1938 as a local doctor's residence. It is located near the centre of Euroa, and all the town's amenities (hotels, shops, cafes and park) are within 300ms of the front door.
The upper floor has been tastefully refurbished and contains 4 bedrooms, 1 king size and 3 queen size. It also has 2 bathrooms, a guest lounge and a patio overlooking the front garden and Binney St perfect for breakfast on a sunny morning. Guests are also welcome to use the swimming pool if required.
The gardens are large, attractive and leafy, and feature many large shade trees which provide many comfy spots for relaxing on a warm day. They also provide many photo opportunities for pre wedding photos.