Youth of Strathbogie strut their stuff at 2017 Showcase
Friday, 22 December, 2017
Evolve Youth Committee finished the year with a bang, celebrating their annual Showcase Event on Wednesday 13 December.
The Showcase was an opportunity for the group to present to Council and the local community about their achievements for the year.
The committee meet on a weekly basis to discuss, plan and manage events, catering to the diverse interests of youth in the community.
This year they were involved in a number of huge local events including FastTrack Talent Show, MusoMagic, Nagambie on Water Festival and Euroa Show and Shine.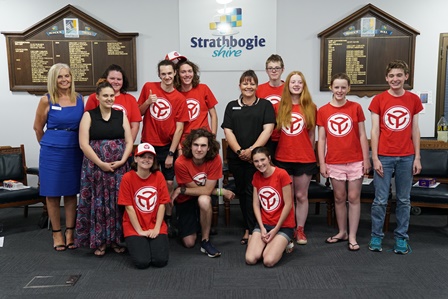 Fast Track Talent Show
Saturday, 8 April, 2017
Performers came from far and wide to the Strathbogie Shire to participate in the Fast Track Talent Show held on Saturday 8th April 2017.
The event was supported by the Victorian and Commonwealth Governments as a part of the National Youth Week, which was held from 31 March to 9 April 2017. Fast Track was planned and managed by the EVOLVE Youth Committee.
After attending an intensive performance workshop in the afternoon, almost 20 acts from as far as Sydney sang, danced and balanced their way through the grand concert, which was held from 7pm at the Euroa Community Cinema.
Overall, the winners were as follows:
3rd Place - Zac Spalding
2nd Place - Ivory Oakely
1st Place - Eliza Spalding
The Special Award winners were Ely Reid (a nine-year old talented Acapella singer from Avenel), Ava Loureke, Emily Hooper and Georgina Ulrich.
A wide range of young talent was particularly shown over the weekend, with EVOLVE Youth of Strathbogie rubbing shoulders with industry professionals.
A special thanks go to KAW Entertainment Services for providing the lighting and sound.