The Strathbogie Shire is an easy place to fall in love with...
Perfectly located in the heart of country Victoria, Strathbogie offers everything from the clear calm waters of our lakes and rivers to stunning views from the heights of our ranges.
Only a ninety minute drive from Melbourne, Strathbogie Shire townships of Nagambiem Avenel, Euroa and Violet Town are accessible by public transport on the North-East line. So sit back, relax and enjoy your journey by starting that book you have wanted to read in a long time.
Why not make a visit to one of our charming villages, sip a cuppa in the sunshine and enjoy our relaxed country lifestyle and hospitality. Have a chat to the locals who may tell you a historic tale of infamous bushranger Ned Kelly, who was born and raised in Avenel.
Alternatively, pick up some magnificent fresh produce to take home from one of the many local markets, or enjoy a glass of wine from one of many revered local wineries.
You can bring the kids, your family and friends, the dog and set up camp, or enjoy the more comfortable setting of a hotel, motel or bed and breakfast.
Strathbogie Shire's parks and rivers are pristine and will provide the perfect place for you, the kids and your furfriends to roam free.
Love the lifestyle. Love the outdoors. Love the location. Love Strathbogie.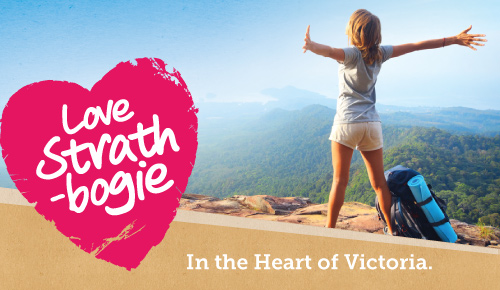 Euroa, Lake Nagambie & Strathbogie Ranges Official Visitors Guide
Food, wine and equine, well-maintained walking trails and magnificent views - the Strathbogie Shire has it all.
While most of our local residents know where to go for a good cup of coffee of which pub to go to for a great meal, we want to share this local knowledge with visitors too!
That is why Strathbogie Shire Council is proud to launch its latest Official Visitors Guide (OVG), which is jam-packed full of things to do in the region.
This free OVG, which is updated every three years, includes useful information on everything to do in Avenel, Euroa, Graytown, Longwood, Mangalore, Nagambie, Ruffy, Strathbogie and Violet Town.
Click here to view the Official Visitors Guide Online