IMPORTANT NOTE
In line with advice from the Victorian Government and the Australian Government, there may be some changes to trading hours and operations. Please contact vendors directly for specific information.
Welcome to the Strathbogie Shire
When visiting our stunning region by either car, train or bike, travelling around and exploring the area can be done by using one of the major roads, rail or highway networks. Alternatively, you can slow down a bit, explore the backroads and 'take the road less travelled' to see what adventures you may discover along the way!
Lake Nagambie is one of Australia's most scenic places to go fishing, water skiing, sailing, rowing, canoeing or simply relaxing on it's banks over a picnic and strolling along the boardwalk. It's also home to a nationally renowned rowing and canoeing venue which regularly hosts exciting State and National championships.
Within half an hour you can be enjoying breathtaking views as you ascend the beautiful Strathbogie Ranges. Providing a dramatic landscape around every corner, the rugged granite-topped mountains, waterfalls and pristine bushland accommodate an abundance of wildlife.
The picturesque towns and villages dotted throughout the region provide another great reason to stay. Avenel, Euroa, Longwood, Ruffy, Violet Town and Strathbogie boast great old pubs, beautiful gardens and lovely old buildings. Monthly markets showcase the region's finest produce and attract visitors from far and wide.
Long ago it was discovered that our ideal climate and rolling hills, offered not only fertile soil for agriculture, but a safe haven for boutique vineyards and now global producers, to develop elegant, distinct and award-winning wines. Many famous and award-winning labels call the Strathbogie Shire home and offer magnificent cellar door and restaurant experiences, including Tahbilk (established in 1860), Mitchelton and Fowles wineries. So, if its great wine and gourmet produce that you are after, this region has plenty on offer with award winning wineries, eclectic eateries and magnificent markets all waiting to be explored.
The Strathbogie Shire has an extensive Equine Industry, and is also known as Victoria's Thoroughbred Homeland, with over eighteen of Australia's finest thoroughbred properties located in our municipality. Many Melbourne Cup winners have been born, bred and trained locally.
Food, wine, equine - and so much more… Enjoy exploring the beauty, abundance and diversity of the Strathbogie Shire.

Avenel
Avenel Golf Club
Bank Street
(03) 5796 2409 (club)
0418 516 972
The only 18-hole sand green golf course in Strathbogie Shire, Avenel is an easy walking course which boasts beautifully grassed fairways. It is 5994m long for the Men with a par of 72 and ACR of 71, while for the Women it measures 5330m long, par of 73 and AWCR of 73. The club is licensed and is available for social groups and functions.
Visitors are welcome. Green Fees: $10
---
Avenel Maze
Avenel maze has two hedge mazes to explore as well as a tricky tile maze, rope maze and rock labyrinth. You can also enjoy a round of mini golf.

---
W.B Gadd
Stocking unique merino wool and possum fibre garments, W.B Gadd is a 'really interesting place' to visit.
Euroa
Already Read Bookshop
78 Binney Street
(03) 5795 1130
OPEN: Monday - Friday: 10am – 4pm
Saturday and Sunday: 10am – 12.30pm
Some public holidays
An initiative of the Friends of the Euroa Library Inc. This bookshop has been operating since 2008. Run by volunteers, there is a huge range of books as well as magazines, puzzles, CD's and DVD's. All proceeds support resources, programs and activities for the Euroa Library.
---
Anglican Op Shop

---
Australian National Show and Shine
This is one of Australia's top show and shine events! Held at the beautiful Seven Creeks Park in Euroa, even if you are not an avid car lover, it is the perfect day out. Admire the craftmanship, enjoy many kids activities with a coffee and something yummy from food vendors.
www.australiannationalshowandshine.com.au
---
Bowerbird Boutique
---
Euroa Arboretum
OPEN: Pedestrian access: Year-round Nursery: Monday 9am – 5pm by appointment
The Euroa Arboretum is a great place to explore the local plants and wildlife. Why not bring a picnic, take a walk along our paths or relax with a fishing rod next to our dam. In addition, you can get great advice about native vegetation on your property, purchase native plants or hire our bush crew.

---
Euroa Community Cinema
www.strathbogie.vic.gov.au (program details)
The Euroa Community Cinema screens the latest movie releases. The cinema is air-conditioned and has a seating compacity of 200. Fully stocked kiosk.

---
Euroa Golf Club
Golf Course Road
www.euroagolfclub.com
Our 18 hole golf course offers many great features. Laid out in 1947 under the guidance of noted Melbourne-based designer Vern Morcom, the course is easily accessible just South of Euroa close to the entrance to the town
It is a Par 72 course featuring gentle undulation and a natural watercourse instead of bunkers, with a strategic placement of native trees lining the couch fairways and bentgrass greens. Some challenging dog legs make it all the more interesting
The use of recycled water ensures excellent conditions for 12 months of the year
Clubhouse, bar and snacks are available on course on competition days, Wednesdays and Saturdays.
Green Fees: $30 for 18 Holes, $20 for 9 Holes.
Vendi Golf is available to pay Green Fees using a debit/credit card and to purchase balls, tees, snacks and drinks. Cart Hire is also available.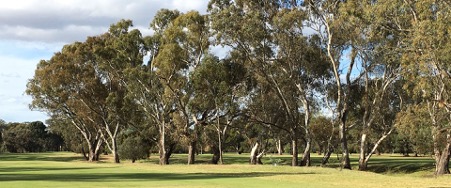 ---
Euroa Historical & Genealogical Society Inc.
---
Euroa Miniature Railway
Visit the Euroa Miniature Railway Facebook page for more details

---
Skydive Euroa
The Parachute School
55 Airstrip Road
1300 302 907
0413 863 929
www.skydivingmelbourne.com.au
OPEN: 7 days a week (prior bookings required)
Great gift idea for mum, dad, partner, birthdays or just treat yourself. The Parachute School has been operating since 1983 with ex-Military Instructors. Our training facility is located 5km west of Euroa Township at one of Victoria's best locations for skydiving close to Melbourne, where we have 100 more jumpable days per year.
We cater for all levels of skydivers from tandems to solo courses with a friendly, family and social atmosphere. Visitors and spectators welcome.
---
Telegraph Park
---
Victorian Cross Memorial
Euroa is home to three Victoria Cross recipients, and there is a memorial next to the RSL in Kirkalnd Ave named in their honour.
Nagambie
Black Caviar
Our region has earned a reputation as an outstanding area for both breeding and training horses, and it is the birthplace of the Legend - Black Caviar. Now immortalised in bronze in the heart of Nagambie, visitors can admire the power of Black Caviar in full flight,and learn more about her story at the nagambie visitor information centre just next door.
---
Go Adventure Nagambie
www.goadventurenagambie.com.au

---
Goulburn Explorer
---
Harvest Moon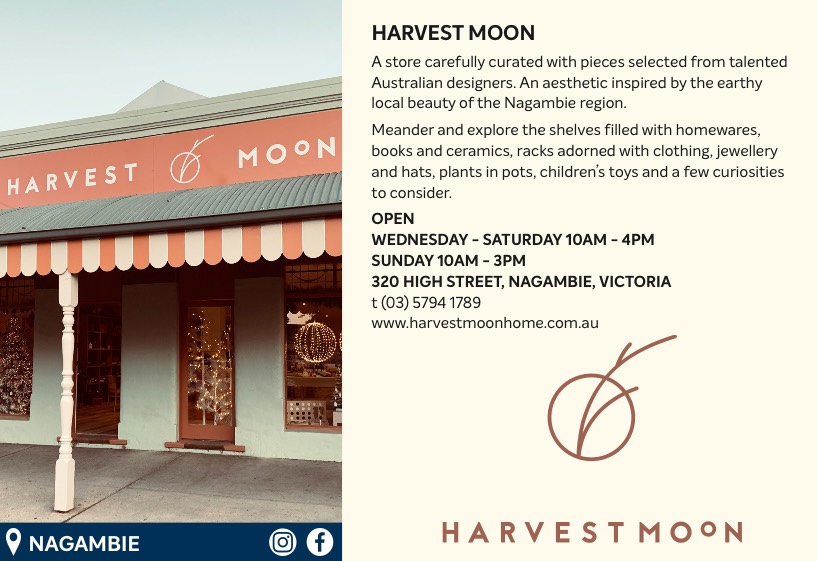 ---
Le Galerie de Nagambie
300 High Street
(03) 5794 2307
0488 770 733
www.lagaleriedenagambie.com.au
This email address is being protected from spambots. You need JavaScript enabled to view it.
OPEN: Everyday 10am – 4pm
Unique collectables, antiques, art, gifts, local crafts and much more. Come and visit, we look forward to seeing you.
---
Nagambie Bowls Club

---
Nagambie Golf Club
---
Nagambie Historical Society
344 High Street
(03) 5794 2321 (Bev)
(03) 5794 2528 (Elaine)
This email address is being protected from spambots. You need JavaScript enabled to view it.
OPEN: Every Wednesday and 1st Saturday of the month: 9.30am – 12.30pm
An impressive collection including family histories and farm machinery made at the town's foundry. Located in the original Nagambie Court House.
---
Nagambie Petanque Club

---
River Country Adventours
13 Mackie St, Kyabram
(03) 5852 2739
0428 585 227
www.adventours.com.au
This email address is being protected from spambots. You need JavaScript enabled to view it.
River Country Adventours offers canoe and kayak exploration throughout the whole region. Either hire a canoe,or take a guided safari.
Adventours getaway camps are completely setup all you need to provide is food and sleeping gear.
Strathbogie
Strathbogie Golf Club
Armstrong Avenue
(03) 5790 5206 (club)
(03) 5778 7424 (secretary)
www.strathbogiegolf.com.au
Described as a hidden treasure 25km east of Euroa, the gently undulating 18-hole course is 5976m long with all grass greens, a par of 72 and rating of 72.7.
Visitors welcome anytime. Green Fees: $20
Longwood
The Rockery Gemstone Museum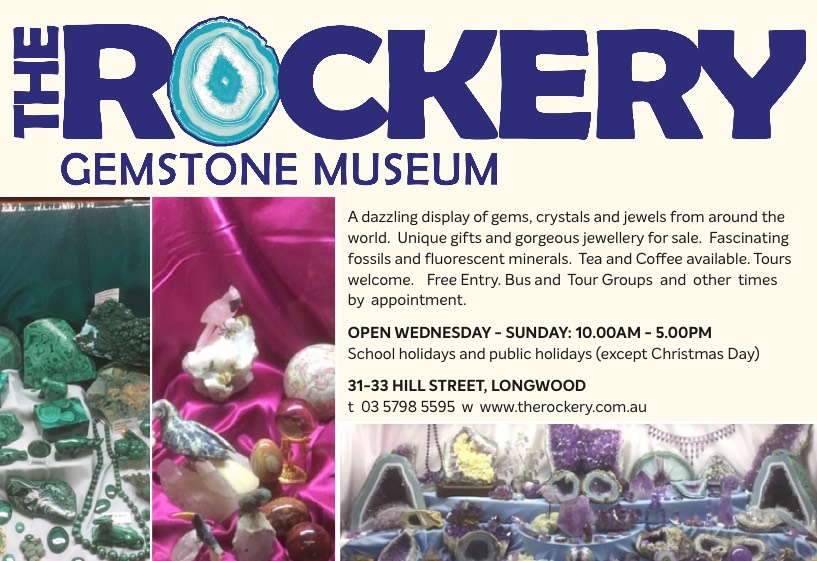 Violet Town
Honeysuckle Recreation Environment Project
www.violettown.org.au/enviornment/honeysuckle-reacreational-envionment-project
---
Southern Auroa Memorial Park
The Southern Auroa disaster, rail accident, occurred on 7 February 1969, 1km south of Violet Town. Locals and emergency services did not hesitate to assist survivors of the doomed overnight express service and a memorial garden was created for the 50th anniversary commemoration of the tragedy in 2019.
The Southern Auroa Memorial Park features a train carriage from the original train service of 1969, along with the history of the crash and stories of those who were affected.
www.southernauroraviolettown.com.au

---
Violet Town Gallery
Official Visitors Guide
Download a PDF version of the Official Visitors Guide here.