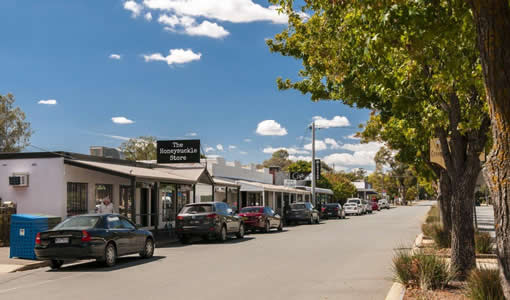 The famous explorer, Major Thomas Mitchell first discovered the area when travelling to Sydney; setting camp in 1836 beside some ponds (Honeysuckle Creek) where wild violets were in flower.
He so named the spot Violet Ponds.
Two years later the government laid out the village of 'Violet Creek', intending to develop a stopping point for the growing traffic on the road between Port Phillip and Yass in New South Wales.
In another first, Violet Town also had the first gas lighting in Victoria.
Community spirit reigns supreme at Violet Town. Whether it's transforming the town's Honeysuckle Creek from weedy wasteland to a wildlife wonderland, or hosting a monthly market which draws thousands of shoppers – there's nothing this community cannot do.
Spend some time in this diverse rural community and you cannot help but be uplifted by the experience.
There are great places to stay and explore.
Take your pick of great dining in local cafes or a quiet ale with the locals in one of the town's two pubs and make sure you put aside plenty of time to walk the renovated Honeysuckle Creek track, and the Community Forest.
Website: http://www.violettown.org.au
Accommodation
Mystic Downs Farm