Nagambie can trace its history back to explorer Thomas Mitchell who crossed the Goulburn to the South West at what became Mitchellstown.
Overlanders followed in his footsteps and used the same river crossing, as did the postman on the mail route from Melbourne to Sydney, established in 1838.
A hotel, church and blacksmith were set up to cater to the through traffic of teamsters journeying along the river system to Adelaide.
A township was surveyed in 1868 and land sales proceeded in 1870 before it was proclaimed as the private town of 'Nagambie' in 1872, said to be derived from a local Aboriginal word meaning 'lagoon'. Named from water, water has always been an integral element of Nagambie then and now.
Only 90 minutes' drive from Melbourne, the town offers a warm, Mediterranean-style climate and a constant water supply in its lake, lagoons and wetlands fed by the Goulburn River.
The nearby Goulburn Weir, completed in 1891, was the first major diversion structure built in Australia and remains a remarkable feat of engineering that uses the Goulburn River to irrigate half a million hectares of farmland.
Not far away are the beautiful old, timber Kirwan's Bridge and the 'strutted stringer' style drawbridge, Chinaman's Bridge.
Take a boat up the Goulburn River and see an amazing variety of bird life while a trip through the restored wetlands at Tahbilk Estate is an inspiring way to understand how much life Nagambie Lakes supports.
Turning water into wine, two of Victoria's premium wineries are nearby Nagambie. Tahbilk Estate, established in 1860 - Victoria's oldest family owned winery - is home to some of the oldest Shiraz and Marsanne vines in the world, as well as having buildings and surrounds much unchanged from its early days.
Further down the Goulburn River, highly regarded Mitchelton Wines with its distinctive & impressive tower and lookout and spacious grounds, offers a wonderful contemporary contrast to the Tahbilk offering
Website: www.nagambielakestourism.com.au
Barong on The Water
---
Nagambie Lakes Leisure Park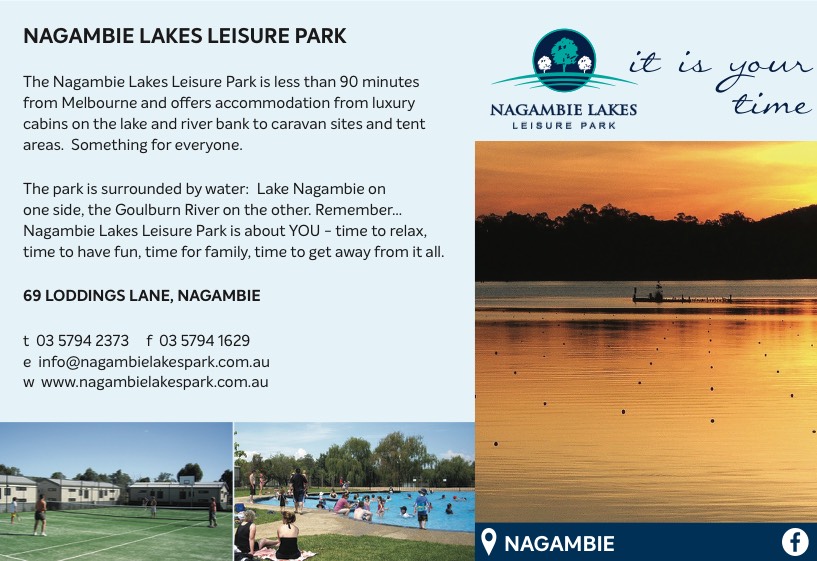 ---
Nagambie Lakes Holiday Units
www.nagambielakesholidayunits.com.au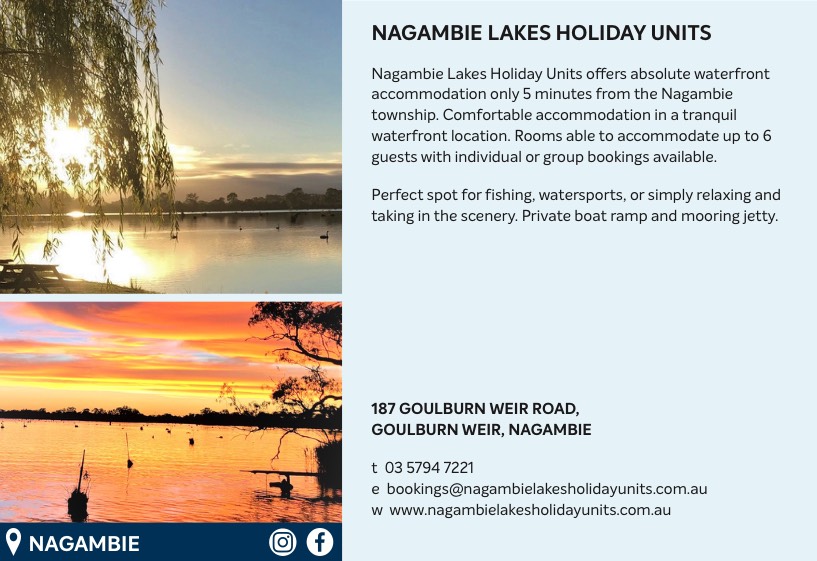 ---
Nagambie Motor Inn & Confrence Centre
---
Relaxing on Vale B&B

---
The Boathouse Nagambie