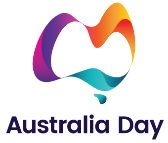 Australia Day, 26 January, is the day to
reflect on what it means to be Australian,
to celebrate contemporary Australia
and to acknowledge our history.
On Australia Day we celebrate all the things we love about Australia: land, sense of fair go, lifestyle, democracy, the freedoms we enjoy but particularly our people.
Australia Day is about acknowledging and celebrating the contribution that every Australian makes to our contemporary and dynamic nation. From our Aboriginal and Torres Strait Islander people - who have been here for more than 65,000 years - to those who have lived here for generations, to those who have come from all corners of the globe to call our country home.
The marking of 26 January is an important date in Australia's history and has changed over time: starting as a celebration for emancipated convicts and evolving into what is now a celebration of Australia that reflects the nation's diverse people.
NOMINATIONS
Nominations are closed for the 2021 awards. The winners will be announced at this year's Australia Day events. More information on these events can be found further down the page.
ASSISTANCE WITH ORGANISING THE EVENT
The Strathbogie Shire Council appreciates the collaborative partnership of our community groups in contributing to the organization of the various Australia Day events each year throughout the Shire.
The friendly team in Tourism, Arts and Culture are here to assist your community with all aspects of organising your town events. Dependant on restrictions surrounding COVID-19, it may be necessary to move the town events to an online event format which will be informed by further advice from DHHS at the appropriate time.
Whether it is Ambassadors, Awards, printing of the certificates, timelines, running sheets, funds for the event / Ambassador accommodation or how to organise and online Australia Day event if required.....email the team at This email address is being protected from spambots. You need JavaScript enabled to view it.
GUIDELINES
For all the information about the Australia Day Celebrations, how to organise the event and where to get help can be found in these guidelines Australia Day Celebration Guidelines.
EVENT NOTIFICATION FORM
To run Australia Day events committees must complete an Event Notification Form. This is a simple form that is completed online and informs Council of the basic details of your event – who, what, where, when – which will take no more than 15 minutes to complete.
To provide easy access to all information in the one spot, the process of submitting the Event Notification, Risk Assessment Plan and Event Review is available on the SmartyGrants portal here.
AWARDS
Each community has the chance to nominate community members and organisations that deserve recognition for their efforts throughout the year. There are four categories in which nominees can gain an award;
Community Organisation of the Year
Junior Citizen of the Year (under 15 years as at 26/01/2021)
Young Citizen of the Year (between 15-25 years at 26/01/2021)
Citizen of the Year (over 25 years at 26/01/2021)
(Cancelled) Community Event of the Year - this category has been removed for the 2021 awards due to events not being able to be held as a result of COVID-19.
All of your winners are submitted to the Councillors to select the Shire Wide award winners.
AUSTRALIA DAY CELEBRATIONS
On Tuesday 26 January 2021, events will be held throughout the Shire. We will continue to update the information below.
Violet Town – 7.30am breakfast, 9am ceremony, Violet Town Community Complex, 35 Cowslip St.
Avenel – 9.30-10.30am ceremony, 10.30-11.20am morning tea, Jubilee Park, Livingstone St.
Nagambie - 8am sausage sizzle, 9am ceremony, High Street, Nagambie.
Strathbogie - 9:30am ceremony, 10:30am morning tea, 12noon barbecue, Strathbogie Memorial Hall, Main Street.
Euroa – 12noon ceremony, 1pm barbecue, RSL Park, Kirkland Avenue
Longwood - 6pm barbecue, 7pm ceremony, Longwood Community Centre and Recreation Reserve.