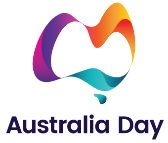 Australia Day, 26 January, is the day to
reflect on what it means to be Australian,
to celebrate contemporary Australia
and to acknowledge our history.
On Australia Day we celebrate all the things we love about Australia: land, sense of fair go, lifestyle, democracy, the freedoms we enjoy but particularly our people.
Australia Day is about acknowledging and celebrating the contribution that every Australian makes to our contemporary and dynamic nation. From our Aboriginal and Torres Strait Islander people - who have been here for more than 65,000 years - to those who have lived here for generations, to those who have come from all corners of the globe to call our country home.
The marking of 26 January is an important date in Australia's history and has changed over time: starting as a celebration for emancipated convicts and evolving into what is now a celebration of Australia that reflects the nation's diverse people.
ASSISTANCE WITH ORGANISING THE EVENT
The Strathbogie Shire Council appreciates the collaborative partnership of our community groups in contributing to the organization of the various Australia Day events each year throughout the Shire.
The friendly team in the Arts, Cutlure and Economy Department (ACE) are here to assist your community with all aspects of organising your town events. Whether it is Ambassadors, Awards, printing of the certificates, timelines, running sheets, funds for the event / Ambassador accommodation or where to buy the sausages.....just give us a call on 5795 0000 and ask for Lauren or Libby or drop us an email on This email address is being protected from spambots. You need JavaScript enabled to view it. .
GUIDELINES
For all the information about the Australia Day Celebrations, how to organise the event and where to get help can be found in these guidelines Australia Day Celebration Guidelines
EVENT NOTIFICATION FORM
To access assistance and funding a simple online form can be completed here. To start, you will need to set up a login. once completed one of our team will be in contact to help with the next steps, arrange payment of funds to assist with the event, arrange Ambassadors (if required) etc.
AWARDS
Each community has the chance to nominate community members and organisations that deserve recognition for their efforts throughout the year. The awards include:
Citizen of the Year (Over 25 years at 26/01/2020)
Community Event of the Year
Community Organisation of the Year
Young Citizen of the Year – (under 25 years at 26/01/2020)
Junior Citizen of the Year (under 15 years of age at 26/01/2020).
All of your winners are submitted to the Councillors to select the Shire Wide award winners.

NOMINATIONS ARE NOW CLOSED
AUSTRALIA DAY CELEBRATIONS
Sunday 26 January 2020 - Everyone is welcome!
Avenel
Jubilee Park, Queen St Avenel
9.30am Ceremony
10.30am Morning Tea
Presentation of Australia Day Awards
Guest speaker: Michael Leunig
Michael Leunig
Michael Leunig is an Australian cartoonist, writer, painter, philosopher and poet. His commentary on political, cultural and emotional life spans more than fifty years and has often explored the idea of an innocent and sacred personal world. The fragile ecosystem of human nature and its relationship to the wider natural world is a related and recurrent theme.
His newspaper work appears regularly in the Melbourne Age and the Sydney Morning Herald. He describes his approach as regressive, humorous, messy, mystical, primal and vaudevillian - producing work which is open to many interpretations and has been widely adapted in education, music, theatre, psychotherapy and spiritual life.
He is a devout nature lover and spends his time between the solitude of the bush in Northern Victoria and a home in Melbourne where he enjoys talking to strangers in the street, walking in the local park, morning coffee in the café, chamber music in the concert hall and attending to work in his studio.
---
Euroa
RSL Park, Kirkland Avenue, Euroa
11.30am Ceremony
Presentation of Australia Day Awards and Citizenship Ceremony
Guest speaker: Emily Quattrocchi
Emily Quattrochi
In July 2018, Emily Quattrocchi had a car accident which left her with a T4 spinal injury and a minor brain injury. Emily spent seven months in hospital and rehab following the accident.
Emily has not let this injury stop her. After starting to regain strength Emily has and is always learning about what is possible. One activity Emily really enjoyed prior to the accident was Cheerleading, she did it for five years before the injury and was scared that she would never be able to do it again. Fast forward to today and Emily was recently crowned a Nationals Cheerleading Champion.
Emily also loves to create film and digital media, starting a YouTube channel that is almost a weekly occurrence for her viewers which tells the story and updates of her life. Emily graduated with a Bachelor of Media and Communications and unfortunately was in hospital during the graduation but was fortunate enough to have the ceremony the next year after leaving hospital.
Emily has made an incredible documentary called "Emily – You Never Give Up" which has been accepted into multiple film festivals in Australia and has also started a media business named "Empower Productions".
---
Longwood
Longwood Community Centre, 2A Down St, Longwood
5.00pm Children's Games
6.00pm BBQ
7.00pm Ceremony
Presentation of Australia Day Awards
Guest speaker: Ivor Guest
Ivor Guest
The Port Phillip Sea Pilot launches are a fascinating site to watch as they power out through the heads. Ivor Guest was the Coxswain (pronounced cox'n) at helm of the launch week on, week off between February 1990 until retiring in 2015.
Longwood is proud to have Ivor as guest speaker at their Australia Day Ceremony 2020 giving us all the inside information on "those orange boats". Ivor has been a familiar face in Longwood since his oldest daughter Shona moved there in late 2000 and can often been seen out riding the Strathbogie ranges.
---
Nagambie
Buckley Park, Glencairn Lane, Nagambie
8.00am Sausage Sizzle
9.00am Ceremony
10.00am Sausage Sizzle
Presentation of Australia Day Awards and Citizenship Ceremony
Guest speaker: Fabian Dattner
Fabian Dattner
Fabian Dattner is one of Australia's foremost experts on corporate leadership. For more than 20 years she, as has helped organisations nationwide overhaul their leadership capacity. Fabian helms a suite of initiatives that range from Awareness groups to daring expeditions to Antarctica.
---
Strathbogie
Strathbogie Memorial Hall, Main St, Strathbogie
9.00am Ceremony
10.00am Morning Tea
12.00pm BBQ
Presentation of Australia Day Awards
Guest speaker: Dr Peter Ellyard
Dr Peter Ellyard
Peter Ellyard is a futurist, strategist, speaker and author who assists individuals, companies, communities and nations to develop pathways to success in the emerging 21st Century global society. He is currently chairman of the Preferred Futures Institute. He also chairs Foundation 2050.
---
Violet Town
Violet Town Community Complex, 35 Cowslip St, Violet Town
7.00am Breakfast
9.00am Ceremony
Presentation of Australia Day Awards
Guest speaker: Rowena Allen
Rowena Allen
Rowena (Ro) Allen is an experienced and longstanding advocate for LGBTIQ Victorians and has held leadership positions in the community and government sectors.
Ro has been a member of three Victorian Government LGBTI ministerial advisory groups and chaired the ministerial advisory committee on LGBTI Health and Wellbeing between 2007 and 2009.
As founding CEO of UnitingCare Cutting Edge, Ro established Victoria's first rural support group for young LGBTI people, giving Ro a deep understanding of the issues faced in rural and regional areas.
Ro is a Fellow of the Australian Institute of Company Directors (AICD) and a former Chair of the Adult, Community and Further Education Board, the Victorian Skills Commission, the Youth Affairs Council of Victoria (YACVIC), and the Hume Regional Development Australia Committee.
Ro was appointed Victoria's first Gender & Sexuality Commissioner in 2015.