Now Showing
Screenings are held regularly on Saturdays at 7.30pm and Sundays at 4pm, unless otherwise stated. There are additional special screenings during the school holidays and on the first Friday of the month.
---
Lunana: A Yak in the Classroom (Foreign Film)
[PG] | Comedy, Drama, Foreign | 110 minutes
An aspiring singer living with his grandmother in the capital of Bhutan dreams of getting a visa to move to Australia.
Friday August 5, 7.30pm | Saturday August 6, 3.30pm
Bookings – https://www.trybooking.com/CAQIO
---
Benediction
[PG] |Biography, Drama, War| 137 minutes
Legendary 20th Century war poet Siegfried Sassoon's life-long quest for personal salvation through his experiences with family, war, his writing, and destructive relationships goes unresolved, never realizing it can only come from within.
Saturday August 6, 7.30pm | Sunday August 7, 4pm
Bookings: https://www.trybooking.com/CAQIS
---
Operation Mincemeat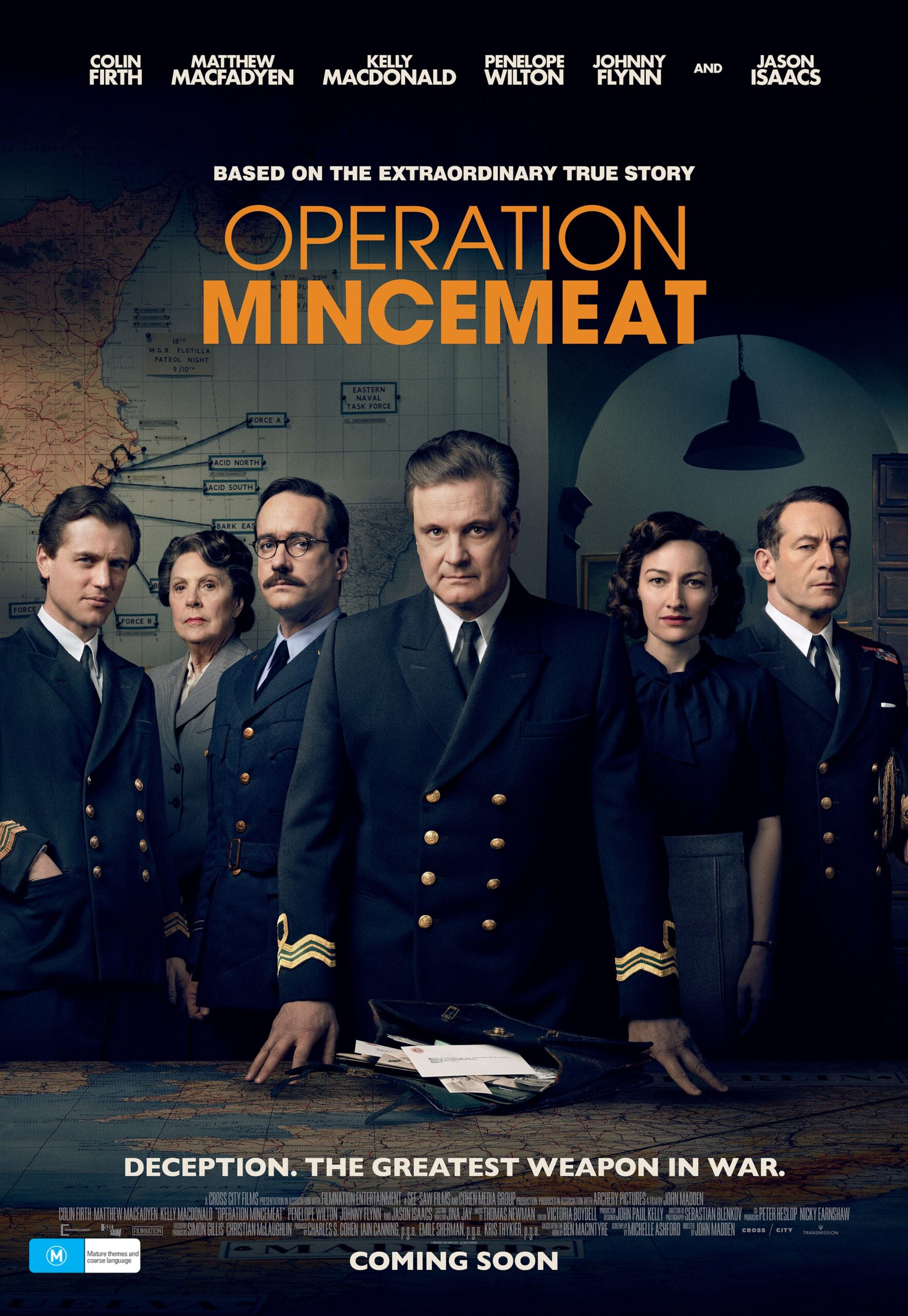 [M] | Drama, War | 128 minutes
It's 1943. The Allies are determined to break Hitler's grip on occupied Europe and plan an all-out assault on Sicily, but they face an impossible challenge – how to protect a massive invasion force from potential massacre. It falls to two remarkable intelligence officers, Ewen Montagu (Colin Firth) and Charles Cholmondeley (Matthew Macfadyen), to dream the most inspired and improbable disinformation strategy of the war – centred on the most unlikely of secret agents: a dead man.
Saturday August 13, 7:30pm | Sunday August 14, 4pm
Bookings: https://www.trybooking.com/CBDME
---
Where the Crawdads Sing
[M] | Drama, Mystery, Thriller | 125 minutes
From the best-selling novel comes a captivating mystery. Where the Crawdads Sing tells the story of Kya, an abandoned girl who raised herself to adulthood in the dangerous marshlands of North Carolina. For years, rumours of the "Marsh Girl" haunted Barkley Cove, isolating the sharp and resilient Kya from her community. Drawn to two young men from town, Kya opens herself to a new and startling world; but when one of them is found dead, she is immediately cast by the community as the main suspect. As the case unfolds, the verdict as to what actually happened becomes increasingly unclear, threatening to reveal the many secrets that lay within the marsh.
Where the Crawdads Sing stars Daisy Edgar-Jones (Normal People) as "Kya Clark," Taylor John Smith (Sharp Objects) as "Tate Walker," Harris Dickinson (The King's Man) as "Chase Andrews," Michael Hyatt (Snowfall) as "Mabel," Sterling Macer, Jr. (Double Down) as "Jumpin'," and David Strathairn (Nomadland) as "Tom Milton." Olivia Newman (First Match) directs the screenplay by Lucy Alibar (Beasts of the Southern Wild) based upon the novel by Delia Owens. The 3000 Pictures film is being produced by Reese Witherspoon and Lauren Neustadter.
Starring Daisy Edgar-Jones, Taylor John Smith, Harris Dickinson, Michael Hyatt, Sterling Macer, Jr. and David Strathairn
Saturday August 20, 7:30pm | Sunday August 21, 4pm
Bookings: https://www.trybooking.com/CBDMG
---
Lee Kernaghan: Boy From the Bush
[G] | Biography, Musical | 100 minutes
Lee Kernaghan: Boy From The Bush is a part concert film and part road movie celebrating the life and music of this much-loved Australian Country singer. It combines the stunning landscapes, remarkable people and amazing stories that have inspired him over many years, with some of his greatest hits and a brand-new song performed live with his band at a specially filmed concert. Winner of 37 coveted Golden Guitar Awards – a record he shares with the legendary Slim Dusty – and with over 2.5 million albums sold and 38 #1 hit songs to date, Lee has shaped a generation and made a huge impact on the country music scene both in Australia and around the world. This is a unique and personal insight into the man, and a cinematic experience not to be missed by the many fans of this true Aussie icon.
Saturday August 27, 7:30pm | Sunday August 28, 4pm
Bookings: https://www.trybooking.com/CBJEQ
---
The Phantom of the Open

[M] | Comedy, Drama, Sport | 105 minutes
Maurice Flitcroft, a dreamer and unrelenting optimist, managed to gain entry to The British Open Golf Championship Qualifying in 1976 and subsequently shot the worst round in Open history, becoming a folk hero in the process.
Saturday September 3 , 7:30pm | Sunday September 4, 4pm
Bookings: https://www.trybooking.com/CBOMO
---
Minions: The Rise of Gru [PG]
$5 School Holiday Screening
Note: children under 13 must be accompanied by a parent or guardian who is at least 16 years or older
[PG] Mild themes, animated violence | Animation, Adventure, Comedy | 127 minutes
The untold story of one twelve-year-old's dream to become the world's greatest supervillain.
Wednesday September 21, 11am (sensory screening) & 3pm (regular)
Bookings: https://www.trybooking.com/CBJDD
Prices
Adults: $10
Children: $10
Children (under 5 years): free
Gift Voucher Booklets: $40 for five tickets (cannot be used for charity screenings)
Tickets can be purchased at the ticket box prior to the screening, or online until 4pm on the Friday before the screening.
Pre-paid cinema tickets can be purchased from Council's Euroa offices at 109 Binney St, Euroa from 9am to 5pm, Monday to Friday.
Kiosk
The Euroa Community Cinema Kiosk is ran by our dedicated volunteers. The kiosk is fully stocked with drinks, lollies, popcorn, and ice creams.
Hiring the Cinema
The cinema can be hired by members of the public and community groups to host a wide variety of events such as fundraisers, forums or concerts. If you are interested in hiring the cinema, please view the cinema hire form for details or contact our Customer Service Team on 1800 065 993.
Accessibility
The Euroa Community Cinema staff and volunteers strive to meet your accessibility needs. Please speak with the volunteers at the screenings for assistance, or alternatively you may call the Council's Customer Service Team before attending a screening on 1800 065 993.
A hearing loop is available for patrons with hearing aids – please advise the volunteers if you require this on your arrival. A social story has also been developed that can be altered as required for your visit to the cinema. Social stories are used for preparing people for situations before they happen. If you have any other feedback regarding accessibility at the Euroa Community Cinema, please contact the Council so improvements can be made.
Volunteer
Strathbogie Shire Council is always on the lookout for cinema enthusiasts to join our team of volunteers. There are a variety of jobs currently undertaken by volunteers to keep the cinema running, such as selling tickets, projection and working in the kiosk. As one of our valued volunteers, you will of course get to view the movie screening free of charge. If you are interested in volunteering, contact our Customer Service Team on 1800 065 993.
History
The Euroa Civic Centre Hall previously acted as a cinema until it ceased operation in the early 1980s. Given the relatively limited entertainment opportunities, particularly for children and youth within Euroa and the wider district, the idea of restoring the Euroa Civic Centre to its former glory was born.
Council received State Government funding from the Regional Arts Infrastructure Allocation – Regional Cinemas Program to upgrade the hall. The total cost of the project was approximately $80,000 which was co-funded by Council and the government on a dollar-for-dollar basis. After a lot of hard work by community members and Council staff, the Euroa Community Cinema was opened in November 2003.
Initially films were shown once every month, however screenings increased after sufficient demand. The cinema has now transitioned to a digital format and screens movies Saturday evenings and Sunday afternoons, with additional screenings throughout the year.