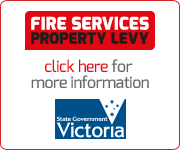 On July 1, the Victorian Government is replacing the fire services levy with a fairer system, as recommended by the Victorian Bushfires Royal Commission.
Rather than contributing through insurance premiums, a property-based levy will be collected with council rates.
This means every Victorian property owner will contribute their fair share. And for the first time, eligible Pensioners and veterans will receive a concession.
The Fire Services website contains further information and resources for residents.