Recent Environmental Events in the Strathbogie Shire
THE CASTLE CREEK PLANTING DAY
Friday 2nd August 2019, 10am-2pm, Free event
Castle Creek, Simpsons Lane, Euroa
The Euroa section of Castle Creek was reinvigerated with trays of over one thousand Poa labilliardiera (Common tussock grasses) and a clean up of old tyres, barbed wire and spoil dumps, recently.
There was a Taungurung Land and Waters Council, Welcome to Country and Smoking Ceremony prior to enthusiastic and all-inclusive planting by Landcare, Friends of the Sevens, the Euroa Arboretum Inc, St John's Primary School Euroa, Shepparton Ace High students, Strathbogie Shire Councillors, Staff, residents and local families.
Overall, a most successful planting day!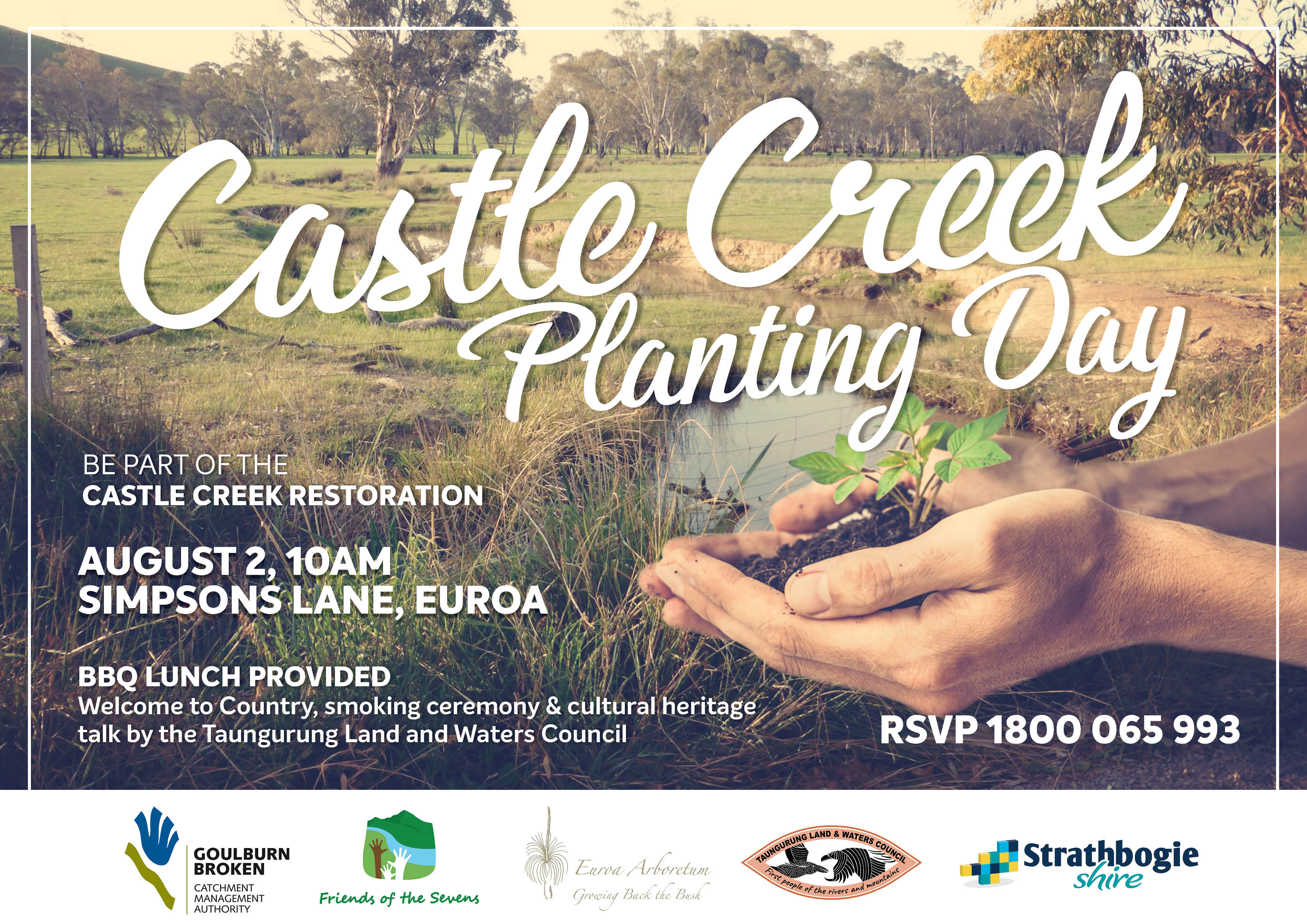 CHOOSING THE RIGHT ENERGY RETAILER: FOR COMMUNITY GROUPS
Thursday 22nd November 2018, 6:00-8:30pm, Free event!!!
Strathbogie Shire Council, Conference Room, Bury Street, Euroa VIC 3666
This event will be run by Carbonetix, one of Australia's most respected energy specialist organisations.
Carbonetix not only work on energy use assessments, but metering, water and fuel efficiency, mehcanical services like chillers, boilers heat exchangers and pumps, carbon accounting and offsets, big and small solar, and lighting. they work across the nation with the biggest multi-national organisations we know.
With the help of Carbonetix, Melton City Council was able to find half a million dollars of retailer billing errors and fix them. Just imagine the possibility for the places and spaces you come into contact with!
It's fair to say, you will never get another free chance to work with such a highly regarded organisation again.
Community groups who attend will be 'green-ticked' on the Council Corporate Greenhouse List if you decide to apply for solar and energy efficiency Community Grants.
To attend this free event, make your booking via the following link, and please feel free to print or share the flyer below.
https://www.eventbrite.com.au/e/choosing-the-right-energy-retailer-community-groups-tickets-51987527093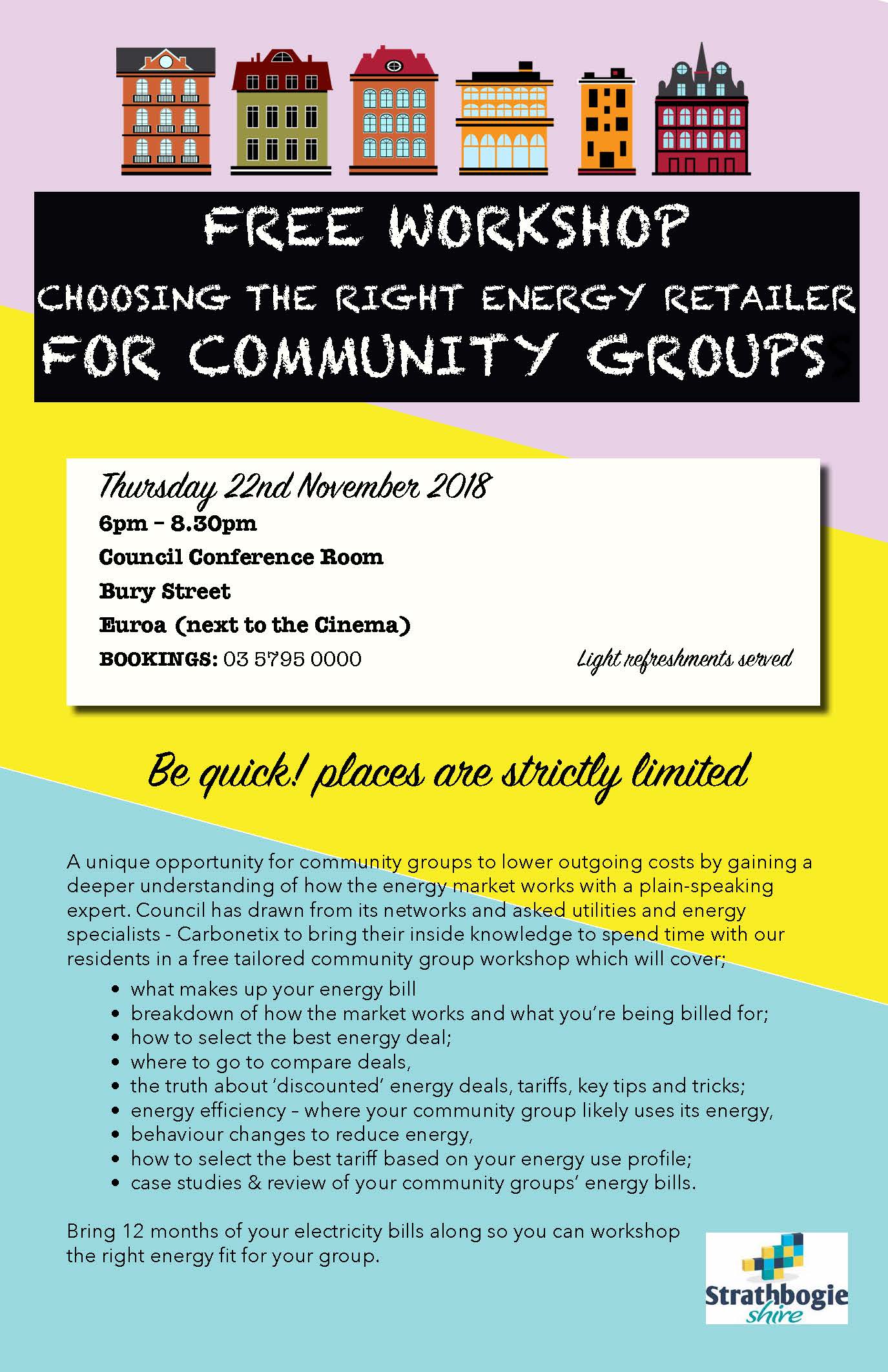 RETROSUBURBIA WITH DAVID HOLMGREN
Friday 7th December 2018, 6-8pm, Free event!!!
At the Violet Town Community Complex, 35 Cowslip Street, Violet Town VIC 3669
Based on David's new publication 'Retrosuburbia: the downshifter's guide to a resilient future' and expands on his very popular permaculture ethics and principles. He'll be engaging with us about permaculture ideas as a creative framework for applying vital retrofits to our home, gardens and, most fundamentally everyday behaviours. This is a one-off chance to engage in a Q & A with David, and to gain some insights into how good change might look.
This forum is perfect for people living in regional towns - both home owners and renters - including those already with some interest in sustainable living, but also people thinking about enacting positive household change, or considering making a change to a less impactful future lifestyle.
Please book your free tickets via the following link, and feel free to share the event on Facebook.
https://www.eventbrite.com.au/e/retrosuburbia-with-david-holmgren-tickets-52380973903