Wednesday, 1 May, 2019
Strathbogie Shire Council urges residents who have not yet registered or re-registered their pets to make sure they do so before 5pm, Monday 13th May.
Animal registrations were due on Wednesday 10th April and to date, 30 percent of animals who were previously registered with Council have not been re-registered.
Council has provided a two week amnesty for residents to give them another chance to register without incurring a fine and will be sending out reminder letters to those who have failed to re-register their animals.
After Monday 13th May, Council will commence a registration blitz by door-knocking across the shire to ensure domestic animals are registered, as required by law.
Failure to register your pet within the amnesty period may result a $317 fine per animal.
Strathbogie Shire Council Chief Executive Officer, Steve Crawcour said it is Council's responsibility to ensure all dogs and cats living in the shire are registered.
"We understand that sometimes in our busy lives things get forgotten, so we are offering an amnesty for you to register your pets," Mr Crawcour explained.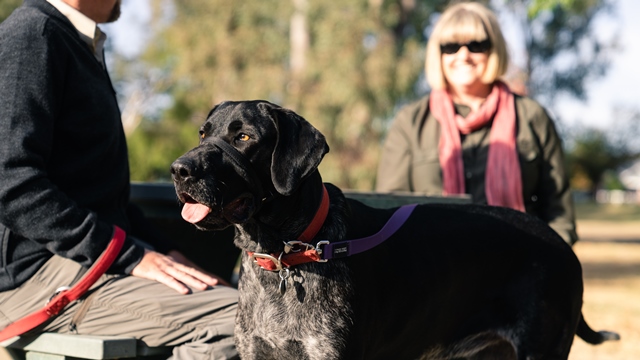 Monday, 30 April, 2019
"Let's build it and see if they will come," was the vision behind the dream of GoFish Nagambie when Gerry Ryan first mentioned the idea to Director of GTR Events, Daryl Herbert. The rest is history, fishos arrived by the thousands, the boats filled the waterways and the fish were caught.
"The best thing has been the excitement amongst the anglers, it's incredible to see an event of this scale in regional Victoria, it's the best!" said GoFish ambassador Rhys Creed. "The festival vibe is fantastic, this event will be here for a long time to come," continued Rhys.
"1150 fish were caught, a monster cod was caught, I've spoken to the guy who caught the fish, it's so exciting," remarked GoFish ambassador Paul Worsteling.
The GoFish Nagambie tournament has come to a close, there are stories of huge fish, stories of the one that got away, stories of no fish, but the story we want to hear about today is the one of the monster fish that measured 109.96cm! But first, there are presentations to be made!
Strathbogie Shire Mayor and Nagambie Lakes Ward Councillor Amanda McClaren said the event was hugely successful and had great economic and social outcomes for the region.
"An event of this magnitude has such a significant and far-reaching impact on a town like Nagambie. With an estimated 20,000 people through the gates over the weekend, the economic outputs generated from GoFish have been enormous," Mayor McClaren said.
"It was great to see fishers of all skill and experience levels from all over Australia gather to enjoy the great outdoors in this beautiful part of Victoria."
Results for Open category winners for Cod, Golden Perch and Redfin:
Open Category Murray Cod Division presented by Shimano Australia - $80,000 CASH
1st Place – Clint Alvey 109.96, picture with winning catch
Open Category Golden Perch Division presented by Shimano Australia - $20,000 CASH
1st Place – Nathan Birch 60.73cm
Open Category Redfin Division presented by Shimano Australia - $5,000 CASH
1st Place - Dean Cummings 39.65cm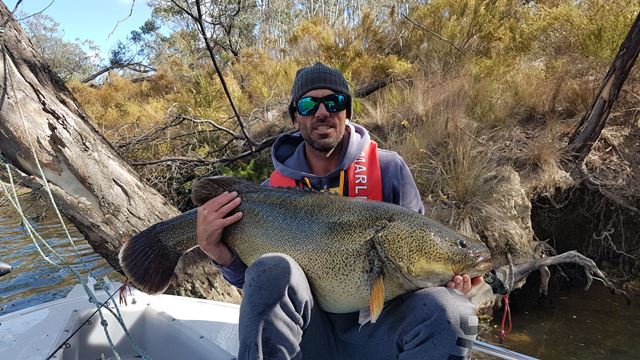 Clint Alvey pictured with winning catch
Friday, 26 April, 2019
We bring to you advice that Strathbogie Shire Council is replacing or upgrading four existing bridges involving road closures at the following locations near Euroa and Nagambie.
We note that the locations mostly will not involve detours, as they are lengthy and complex – seeking an alternative route is advised.
| | | | | |
| --- | --- | --- | --- | --- |
| Start Date | Finish Date | STATUS | Road / Bridge | Location |
| Wed 20 Feb 2019 | Sat 15 Jun 2019 | TO BE CLOSED | Faithfuls Creek Rd Br No.6 | 100m from Sheans Creek Rd corner |
| Mon 29 Apr 2019 | Sat 25 May 2019 | TO BE CLOSED | Ankers Rd Bridge No. 117 | 2km from Creek Junction Rd |
| Wed 12 Jun 2019 | Sat 29 Jun 2019 | TO BE CLOSED | Moormbool Rd Bridge No.134 | 800m from Mt Camel-Graytown Rd |
| Mon 27 May 2019 | Sat 22 Jun 2019 | TO BE CLOSED | Wattlevale Rd Bridge No.74 | 2.5km from Heathcote-Nagambie Rd |
Please note: These dates are approximate and more up to date signage on the roads will apply.
It may be that works are started later or completed earlier than the final date noted, and if this is the case the traffic signage on the roads will be removed. If the road is still closed the signage will be left in place. Unfortunately none of these bridges have informal side-track access.
If you have any questions or concerns about these bridge works, please don't hesitate to contact Council Offices on 1800 065 993.
Tuesday, 23 April, 2019
A decision to implement Stage 2 water restrictions in Euroa and Violet Town has been made by Goulburn Valley Water following months of dry and warm conditions.
Restrictions will be in accordance with GVW's Bylaw 512 and came into effect from Thursday 11th April and will remain in place until further notice.
Storages in the Euroa system, which supplies both Euroa and Violet Town, are sitting at about 22% and demand continues to be high due to warm autumn weather.
Improvement works underway this year on the original Abbinga storage dam are also affecting storage levels.
Strathbogie Shire CEO, Steve Crawcour said Council is working with Goulburn Valley Water to reduce its operational water usage and use alternate supplies of water, including raw water, where possible.
"We have had discussions and assistance from Goulburn Valley Water to look at where we can reduce Council's water usage, as well as ensuring the shire's essential assets are maintained where possible," Mr Crawcour explained.