Monday, 27 May, 2019
Due to staff training the Nagambie Maternal & Child Health Centre will be closed next Tuesday 4th June.
To make an appointment at another time please call Council Offices on 1800 065 993.
We apologise for any inconvenience this may cause.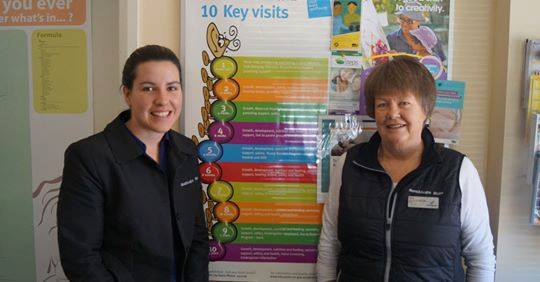 Friday, 24 May, 2019
Strathbogie Shire Council is currently undertaking improvement works at the Travellers Rest area in the Seven Creeks Park.
The current works are stage one of a two stage project to provide an all-abilities access ramp and walkway, linking the Seven Creeks Park water frontage with the Travellers Rest facility.
Stage 1 involves the construction of the walkway over the top of the existing concrete waterside promenade area, including new bench seating and the removal and replacement of the existing sub-standard decking material on the Travellers Rest viewing.
Strathbogie Shire Mayor Amanda McClaren said these works are anticipated for completion by the end of June 2019.
"This upgrade will not only improve the amenity of such a well-used park and facility, but it will make it more accessible, especially for people with a disability," Mayor McClaren explained.
Cr McClaren said Stage 2 of the upgrade is currently under consideration for inclusion in the 2019-20 Budget which will go before Council for adoption at a Special Council Meeting on Tuesday 25th June after hearing and consideration of submissions.
"Stage 2 involves the removal and replacement of the existing split-level access pathway with a single all-abilities access ramp which would comply with the current Australian Standard for all-ability access and mobility," Mayor McClaren said.
"It is so important we continue to improve and refresh these types of facilities to ensure they continue to be utilised by both locals and visitors to our shire."
Thursday, 23 May, 2019
Goulburn-Murray Water (GMW) is warning customers and the public to avoid direct contact with water in the entire Nagambie Lakes system after monitoring detected high levels of blue-green algae.
Warning signs will be positioned at major recreational areas around the Nagambie Lakes and will remain in place while high levels of blue-green algae are present. The Nagambie Lakes will not be closed to the public.
You can still sightsee and enjoy other activities at the Nagambie Lakes and Goulburn Weir that do not involve direct contact with the water.
Blue-green algae occur naturally in waterbodies and can present a risk to the health of humans and animals.
The algae detected may cause gastroenteritis if ingested. Characteristic signs of algae contact are skin rashes or itchiness; sore eyes, ears and nose; or if swallowed, nausea or vomiting.
GMW recommends:
People and pets avoid contact with the water.
People who come into contact with affected water should wash affected skin immediately in clean cold water.
Seeking an alternative water supply for stock and pets where possible.
Do not use affected water for cooking, drinking, washing or showering. Boiling the affected water will not make it safe for these purposes.
Reading GMW's fact sheet and other information on blue green algae at GMW's blue-green algae webpage (https://www.g-mwater.com.au/news/bga) to be informed of the risks
Friday, 17 May, 2019
It is out with the old and in with the new at Nagambie Recreation Reserve, with construction well underway on the refurbishment of the clubrooms.
The old panelling and toilet and shower fittings have been removed to make way for a brand new fit out for the building.
Plumbing has also commenced and works on the clubrooms are expected to continue over the coming months, with construction scheduled for completion in the later part of 2019.
The end result will be a complete refurbishment of the clubrooms, including:
Female friendly facilities including updated toilet and change room facilities
Updated toilet and change room facilities in the football rooms to adhere to relevant sporting guidelines
An all-abilities toilet and shower facility including a baby-change station
Designated umpire change rooms with toilet and shower facilities
The upgrade has a total budget of over $250,000, including $100,000 from the Victorian Government's Country Football Netball Program, $100,000 contribution from Strathbogie Shire Council, $30,000 contribution from Bendigo Bank and in-kind support from a variety of the local user groups.
Strathbogie Shire Mayor and Nagambie Lakes Ward Councillor Amanda McClaren said it is fantastic to see works underway on such an important community project.
"The Nagambie Recreation Reserve has been in desperate need of an upgrade to ensure it's ongoing use by a variety of sporting groups," Mayor McClaren said.
"It is great to see works happening at the site and we look forward to seeing the finished product, which will be so much more accessible for our whole community."