Wednesday, 14 February, 2018
Yesterday was a massive day for Avenel, with the official opening of the Avenel Hall and an exciting funding announcment from the Victorian Government for extensions to the Avenel Kindergarten which will contribute to a $526,000 project in total.
The Avenel Hall renovations were valued at over $400,000, consisted of $300,000 funding from the Victorian Government's Regional Jobs and Infrastructure Fund, as well as over $100,000 from Strathbogie Shire Council.
The hall, which was built over 100 years ago, has had a major upgrade and extension, including three new meetings rooms, brand new kitchen, renewal of main toilets, installation of a storm water reuse system and structural improvements to the existing building.
State Member for Northern Victoria Jaclyn Symes visited Avenel to open the hall and make the funding announcement at the kindergarten.
The Avenel Kindergarton upgrades will involve significant extensions to the buildings, reconfiguration of the entrance, a new reception area, a consultation room and a meeting room.
Extensions will facilitate a greater capacity for kindergarten students, from 28 to approximately 60 places and allow for integration of an early childhood learning centre, fun groups, supported play groups, as well as after school and in future long day care provision.
The project will also see Maternal and Child Health Services co-located at the kindergarten.
Click here to find out more about the Avenel Hall opening
Click here to find out more about the Avenel Kindergarten funding announcement
Avenel Hall Opening (left to right) Hughes Creek Ward Councillor Malcolm Little, State Member for Northern Victoria Jaclyn Symes, President of the Avenel Hall Committee Ken Sloper, Strathbogie Shire Mayor Amanda McClaren and Avenel Hall Committee member Frank Dawson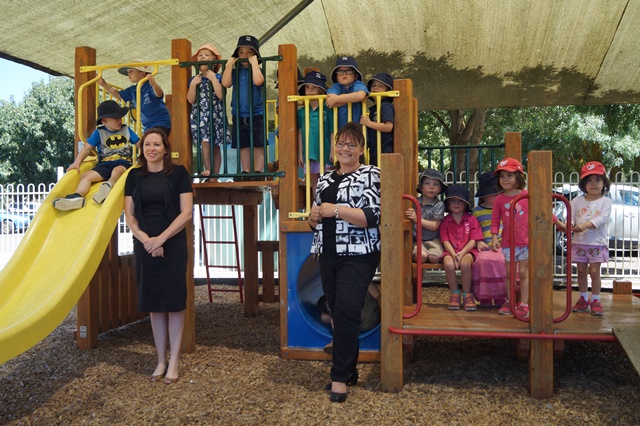 State Member for Northern Victoria Jaclyn Symes and Strathbogie Shire Mayor Amanda McClaren make funding announcement at Avenel Kindergarten