Tuesday, 12 February, 2019
By Brad Gleeson, Landmark Euroa
Euroa agents held their monthly store cattle sale on Wednesday 6th February, where agents yarded a respectable 1300 head of cattle.
Expectations were not set at high levels before the sale, with very limited grass and water available. Agents were pleased to see 4-5 major commission buyers in the buying gallery.
The sale commenced as always on the heavier run of yearling steers, with very few good quality pens and limited numbers in pens, prices across this category were generally 10-20 c/kg cheaper.
Once onto the lighter weight weaner steers, prices picked up and were generally firm with rates quoted from 270-300c/kg for the better end of the lighter weight steers.
The yarding of heifers was generally of secondary breeding and condition types. Prices varied depending on breed with many of the Angus and Angus cross cattle sold to fully firm rates, with strong demand for these cattle to go to future grain feeding.
Very few pens of cows and calves were offered, with one pen of 4x4 Angus cows and calves running back to the Angus bull sold for $1180. There was a larger offering of joined females which many were believed to be sold due to lack of water and feed to keep these animals. These cattle were mainly purchased by processors at kill valuerates.
Cattle were mainly purchased by commission buyers operating for interest in Tasmania, NSW and South Gippsland. One Goulburn Valley agent was also very prominent.
Top Sales
Ace Talasker
11 angus steers 12months. 390kg $1120
Ace Burnview
13 angus steers 8 months. 340kg $950
Ace Monea park
12 angus x steers 11/12 months 360kg $1030
Ace blythe Aire
19 charolais x steers 5/6 months 229 kg $675
Monday, 11 February, 2019
Strathbogie Shire Council, in partnership with Mitchell and Murrindindi Councils, will be developing a Waste Education Strategy for the Southern Goulburn Region.
In order to assist our communities, we want to know what you would like to learn about, and how we can better support your household to become more waste wise and produce less waste.
A survey has been made available on the Strathbogie Shire website www.strathbogie.vic.gov.au for residents to complete until Friday 19th March.
Additionally our Regional Waste and Resource Recovery Education Officer, Grace Davis-Williams, will be hosting a number of pop-up events in the area for community feedback.
At these events you can find out more about using the kerbside bins, access paper versions of the survey and discuss what types of educational programs you would like to see in relation to waste and resource recovery.
Ms Davis- Williams encourages the community to fill in the quick survey or pop in and chat with her at one of the pop-up events.
"We want to get a better understanding of community needs regarding waste and resource recovery education so that we can deliver an education program that is relevant and useful for local residents," Ms Davis-Williams explained.
The following pop-up events are happening in the Strathbogie Shire:
Friday 15th February, Violet Town
8am – 11am, Violet Town Café (37-39 Cowslip Street, Violet Town)
Friday 15th February, Euroa
12pm – 3pm, Out the front of Burton's IGA (75 Binney Street, Euroa)
Friday 22nd February, Avenel
9am – 12pm, Harvest Home Hotel/Café (1 Bank Street, Avenel)
Friday 22nd February, Nagambie
1pm – 4pm, Out the front of Champions IGA (259 High Street, Nagambie)
Wednesday, 6 February, 2019
The Twilight Hawkers Market will once more bring great fun and flavour to Euroa on Saturday 23rd February at the Seven Creeks Park from 6pm.
Celebrating diversity and inclusion, this year's celebration will feature the Sapphire Bollywood Dancers, who guarantee laughter and participation from all spectators.
Fabulous food, lively entertainment and kid's competitions are what have attracted crowds in the past, so this winning formula will stay in 2019.
Strathbogie Shire Council has backed the event by kicking in a $3,000 Arts, Culture and Events Grant through their successful Community Grants Program.
Strathbogie Shire Mayor Amanda McClaren said Council is pleased to be able to support community events that contribute to the social fabric of the local community.
"Events like the Twilight Hawkers Market are fantastic in providing social, cultural and recreational connectivity for our community, as well as contributing to local tourism and economic development."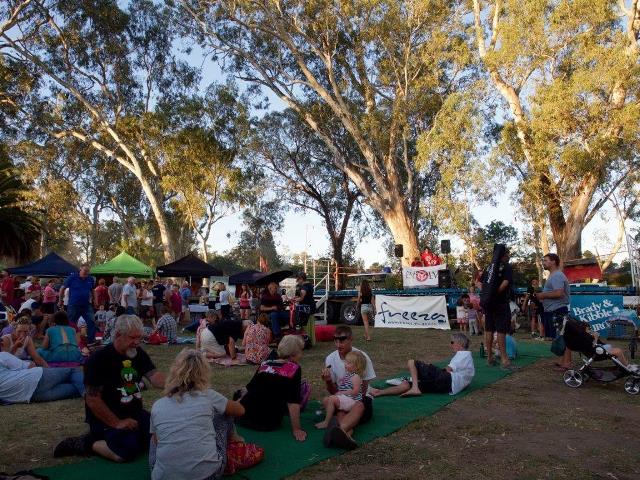 Monday, 4 February, 2019
A random selection of residents in the Strathbogie Shire will receive a phone call to participate in Council's Community Satisfaction Survey to share their views about Council's performance.
Independent market research agency, National Field Services will carry out the phone surveys, which provide an opportunity for Strathbogie Shire residents to assess Council's performance and service delivery across a range of areas.
National Field Services will be taking calls from 1st February until 31st March.
Strathbogie Shire Mayor Amanda McClaren said Council encourages residents to participate to help us understand their current performance and identify areas for improvement.
"We want to assure residents their personal details and individual responses are confidential in this survey," Cr McClaren said.
"These surveys are undertaken every year and are useful in providing Council with an overall picture of current community satisfaction levels and where we can better meet the needs of our residents."
If you have any questions relating to the Community Satisfaction Survey, please don't hesitate to contact Council Offices on 1800 065 993.