Monday, 19 June, 2018
A steering committee, made up of representatives of the Friendlies Oval Committee and relevant Councillors and Council staff, have met for the first time to get the ball rolling on the Friendlies Oval upgrade.
Strathbogie Shire welcomed a $100,000 funding announcement in January from the Victorian Government's Community Sports Infrastructure – Cricket Facilities Fund.
The upgrade will include the following items:
A new surface for the oval, including the widening and slight lengthening of the oval to create an even playing surface
Installation of a new watering system
Replacement of existing perimeter fencing with white picket fencing
Installation of three turf wickets.
The project plan, scoping and design are currently being developed and is forecast to go out to tender in the coming months.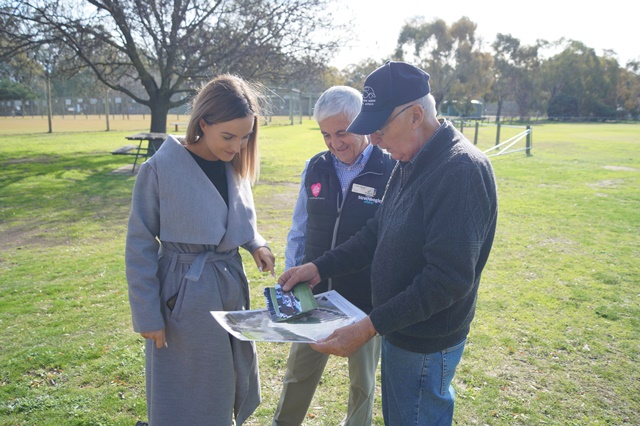 (L to R) Sara from Win News learning all about what has been planned for the Friendlies Oval from Deputy Mayor and Chairman of the steering committee, John Mason and Committee member and driver of the committee Rob Asquith
Wednesday, 13 June, 2018
Council's 2017-18 Road Rehabilitation Program has come to a close, with major works projects carried out at five sites across the Strathbogie Shire, valued at approximately $975,000 in total.
Strathbogie Shire Council's Director of Community Assets Roy Hetherington said the rehabilitation program works to renew ageing and damaged infrastructure.
"Our rehabilitation program lifts the standard of these roads to carry modern day traffic size and volume," Mr Hetherington explained.
"It ensures the strength and stability of this infrastructure for many years to come."
The following projects were completed in Council's 2017-18 Road Rehabilitation Program:
Pine Lodge Road south of Icks Road
Pine Lodge extension road south of Arcadia Road
Ponkeen Creek Road 350 metres south of Longwood- Ruffy Road
Garrett Street from Scott Street to De Boos Street
Anderson Street South side shoulder between Bury Street and Brock Street. An asphalt overlay was applied to accommodate formalised parallel parking
The 2018-19 Road Rehabilitation Program will be announced when the finalised 2018-19 Budget is endorsed on Tuesday 26 June after the consideration of submissions.
Friday, 8 June, 2018
Approximately 2200 cattle were scanned for the End of Financial Year Cattle Sale this week at Euroa Saleyards, with every yard filled and buyers chomping at the bit come midday.
Due to the dry season, operators sent in cattle that would usually be kept on during the winter months.
Rodwells Auctioneer Anthony Delaney said the June Sale was an improvement on recent sales around the region, particularly given the season and current conditions.
"We saw a lot more widespread buyer support, with large crowd of buyers from areas such as Albury, Hamilton, Gippsland, Ballarat, Boort, Penola, Yea, Bendigo, Kyneton, Alexandra, Mansfield, Benalla, Cobram, Shepparton and Wangaratta, as well as local competition," Mr Delaney explained.
"A good quality line up of Angus Steers and Heifers were the highlight of the sale, bringing prices $50-$100 dearer than seen in previous weeks around the state."
Strathbogie Shire Mayor Amanda McClaren said the Euroa Saleyards is not only an asset to the local agriculture industry, but to agriculture across Victoria.
"It is great to see the Euroa Saleyards, which has had significant upgrades in the past few years, being utilised by our local farmers, as well as farmers from all over Victoria."
"Agriculture is our lifeblood here in the Strathbogie Shire and I encourage residents and visitors to attend the next monthly sale, grab a steak sandwich and embrace the agriculture industry in action."
The next Euroa Cattle Sale is scheduled for Wednesday 4 July at 12pm.
Click here for the top prices from the June Sale
Wednesday, 6 June, 2018
What are the local stories that are part of your town's character?
Maybe it is related to local heritage, our primary industries or examples of local comradery in the face of adversity?
How do you think arts and cultural activities in the Strathbogie Shire benefit our communities and visitors?
Strathbogie Shire Council wants to hear what you think contributes to the culture and character of the Strathbogie Shire and will be gathering this feedback to develop a Culture Strategy which will be the shire's road map to becoming a more vibrant, sustainable and connected community.
Feedback from Council's "Let's Talk We're Listening" Campaign in 2016 highlighted tourism, arts and culture as key areas the Strathbogie Shire community feels passionately about.
Council made these high priorities when developing the Council Plan and have since appointed Tourism, Arts and Culture Manager and Tourism, Arts and Culture Advisory Committee to lead the development of the strategy.
Manager Tourism, Arts and Culture Claire Taylor said all Strathbogie Shire residents have a role to play in the preservation and celebration of culture.
"Culture is not something Council can generate, but something we can nurture and encourage in collaboration with our communities," Ms Taylor explained.
Click here to read the full story