Energy Safe Victoria and the Department of Primary Industries have prepared information on how to prepare and be safe during power outages.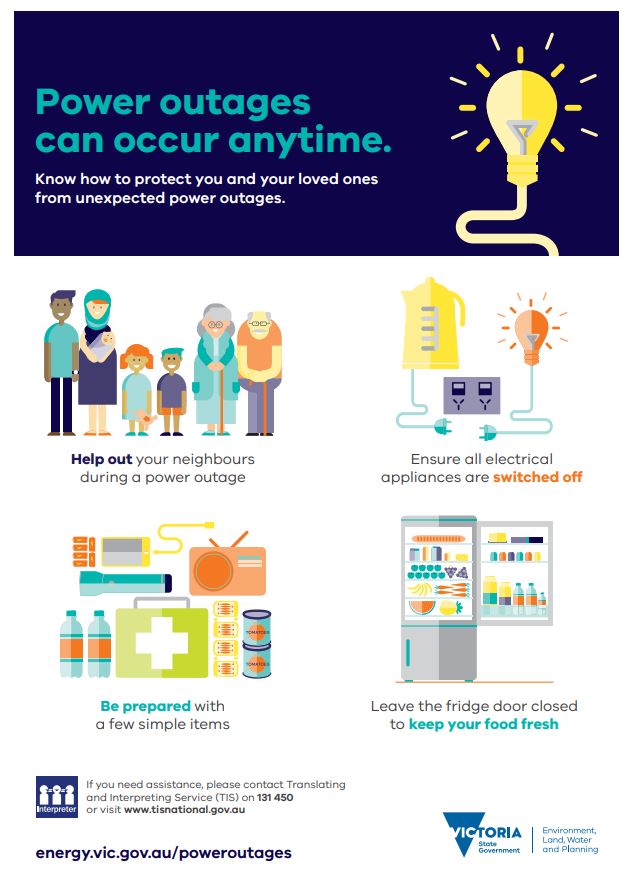 Preparing for unexpected power outages
Localised power outages can happen at any time but are more common during severe weather. Preparation is key as residents are often caught off guard when power outages occur. If you experience a power outage, please be safe, have an energy plan and kit ready that includes:
•A torch, a charged mobile phone and emergency contact numbers handy.
•Use a car charger to keep the phone charged.
•Keep clear of fallen powerlines and keep others away. The powerlines may still be live, so you should call your local electricity distributor (see the "Faults and Emergencies" number on your most recent electricity bill).
•Check your neighbour's house to see if they have also lost power. If your neighbour has power on, then check to see if your safety switch has been tripped.
•Food safety is important during power outages.
•Move food from the fridge to the freezer.
•If available, put bagged ice under food packages and trays stored in freezers and fridges if the power failure lasts more than one hour.
•Once cold or frozen food is no longer cold to touch, it can be kept and eaten for up to four hours and then it must be thrown away.
•Be careful when using candles and other open flames – keep naked flames away from flammable material.
•Make sure appliances are turned off (because they could come back on when you are not there).
What to do in an outage
Extreme weather can place stress on the power network, which can result in localised power outages.
Be prepared for power outages – make sure you have access to:
• A torch or battery-operated light
• A fully charged mobile phone
• A battery-powered radio for alerts and updates
• Fresh water if you rely on a pump for water
• The 'faults and emergencies' number on your latest electricity bill.
Know what you need: visit energy.vic.gov.au or phone 136 186.
Know your electricity distributor
Severe weather conditions can place stress on the network infrastructure and result in localised power outages.
To find out who supplies electricity to your home and be prepared for power outages visit, energy.vic.gov.au/electricity/electricity-distributors
If you are impacted by power outages and need to understand how to comply with current coronavirus (COVID19) health restrictions, visit https://www.coronavirus.vic.gov.au/emergencies
Help your neighbours during a power outage
If you are impacted by localised power outages, you can help by keeping an eye out for those who may be more at risk including the elderly, the very young, people with medical conditions, family, friends and neighbours.
For safety tips and ways to reduce your usage, visit energy.vic.gov.au or phone 136 186.
If you are affected by power outages, follow the current coronavirus (COVID-19) advice for emergencies.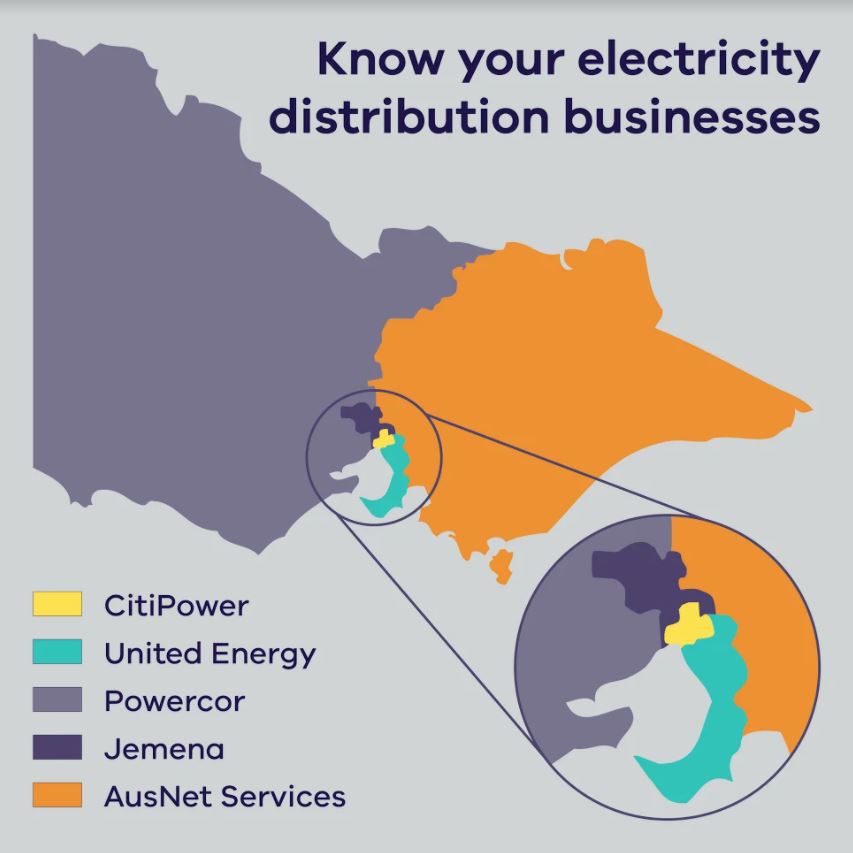 For more information on power outages, visit the Victorian Government website: https://www.energy.vic.gov.au/