Extraordinary vacancy
An extraordinary vacancy has occurred in Strathbogie Shire Council, Lake Nagambie Ward due to the resignation of Councillor Melanie Likos on Tuesday 17 August 2021.
The vacancy will be filled through a countback of all the votes from the Strathbogie Shire Council, Lake Nagambie Ward election held in October 2020. It will include all remaining eligible candidates who were not elected at the election.
The countback will be held online at 10 am on Wednesday 15 September.
Watch the countback here
Donation Return
All candidates, whether they are elected or not, must provide a donation return – even if they did not receive any donations.
The Local Government Inspectorate have released these FAQs to assist candidates.
To download a Donation Return Form click here for the PDF version or click here for a Word document.
Please remember to state 'no disclosable gifts' on the form should you have no gifts to declare.
Once you have completed your form, please email to Julie Salomon, Chief Executive Officer, at This email address is being protected from spambots. You need JavaScript enabled to view it. .
Strathbogie Shire Council election results 2020
Click here to see the election results.
Computer count information session
To view a video with details about the VEC's computer counting process click here and scroll half way down the page.
Voting closes soon for the Strathbogie Shire Council election
Voters enrolled in the Strathbogie Shire Council election are reminded they have until 6 pm Friday 23 October to return their completed ballot material.
Completed ballot material must be posted before final local mail clearance times. Voters should check their local mail clearance times, as this may be earlier than 6 pm or earlier in the week. Alternatively, voters can hand-deliver their ballot material by the 6 pm deadline to the Election Manager at the election office located at Old SES Building, 1A Bury Street, Euroa.
Voters who still haven't received their ballot pack by Friday 16 October should call the election office immediately on 1300 140 713 to arrange a replacement.
Extended hours for voters to hand-deliver their completed ballot material apply from 9 am to 8 pm on Thursday 22 October and 9 am to 6 pm on Friday 23 October.
Voting is compulsory for voters who were on the State roll for this general election at 4 pm Friday 28 August and Council-enrolled voters are encouraged to vote. State-enrolled voters who don't vote may be fined.
Election and caretaker period 2020
Councils must comply with special arrangements in the lead up to elections, known as the caretaker period. This is in accordance with the Local Government Act. The Act states that the election period starts on the last day on which nominations for the election can be received and finishes at 6pm on the election day. For the 2020 Council election, this means the election period will be from Tuesday 22 September to Saturday 24 October, 6pm.
A caretaker period ensures that council actions don't interfere with the election process, and the election process is conducted in an ethical, fair and equitable way. It also safeguards the authority of the incoming council.
During the election period councils are prohibited from making certain types of decisions and material produced by councils must not contain matter that will affect voting at the election.
Thinking of running for Council?
For more detailed information read our Fact Sheet here.
Strathbogie Shire Council ward map
Click here to see a more detailed and interactive ward boundary map.
Local Government Candidate Training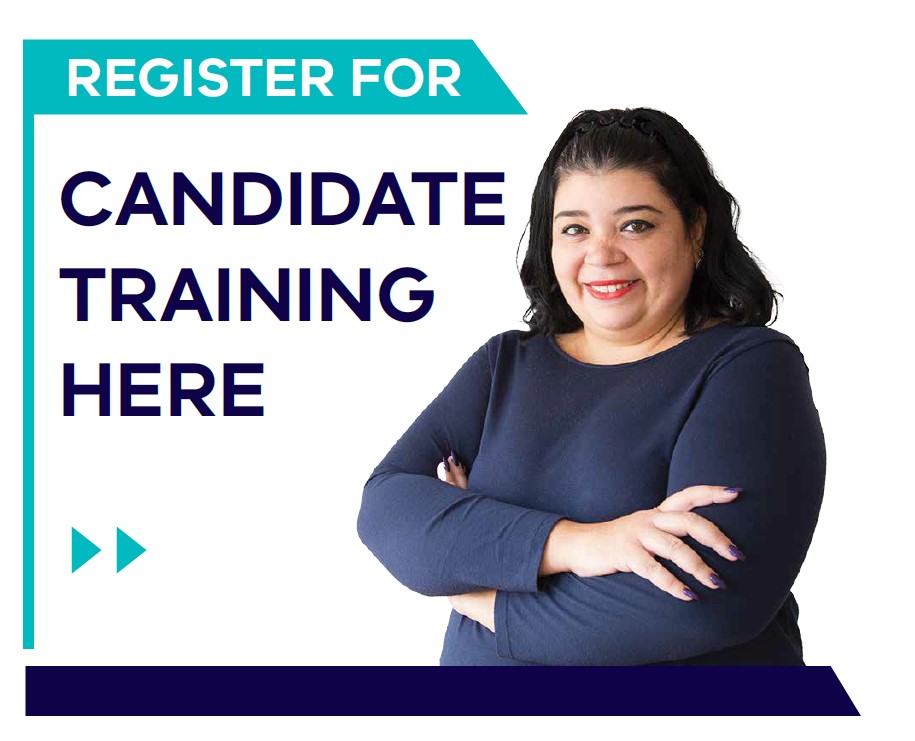 The mandatory Local Government Candidate Training course for the 2020 elections is now available online.
Under new requirements included in the Local Government Act 2020, candidates must complete the course to be eligible to nominate with the Victorian Electoral Commission. This includes all serving or former councillors intending to nominate.
The online course will take around an hour to complete and ensure candidates fully understand the role of councillor and its requirements.
If you require access to a computer, or have insufficient internet access, to complete the compulsory candidate training, please contact Dawn Bray, Executive Manager Governance & Customer Service on 1800 065 993 to discuss how we can support you.
Being a candidate - helpful resources
The VLGA has prepared a toolkit for candidates. It provides useful information about the role of local government and what it means to be a councillor.
Candidate Handbook – Local Government postal elections 2020
Guidelines for safe campaigning during the coronavirus (COVID-19) pandemic
Regional Victoria Safe Campaigning Guidelines September 2020
VLGA video and webinar resources
2020 Local Government Elections Candidate Interactive Seminar 13 September 2020
Resources for Women
It is important that our Council is representative of our community. The VLGA has also prepared a candidate resource kit for women to help achieve greater diversity across the State.
Local Women Leading Change is running a series of online workshops to support women to run for election. Visit the VLGA website for more information and to register.
It's Our Time is a Victorian Government funded campaign to support, inform, and inspire more women to nominate for this year's local government elections. Visit the website for more information.
Your council, your vote: Strathbogie Shire Council 2020 election
The Strathbogie Shire Council election will be held this October.
The Victorian Electoral Commission is preparing to deliver local council elections during the extraordinary circumstances of the coronavirus (COVID-19) pandemic. Elections are to be conducted entirely by post – a safe and completely secret method of voting.
Local council general elections are held every four years and councillors make decisions on a range of important local issues and services, including:
maternal health and childcare
sporting and recreation facilities
libraries and community centres
animal registrations
rubbish and recycling
planning and building regulations
local roads and footpaths.
We strongly encourage all eligible voters to vote this October. Voting is compulsory for State-enrolled Australian citizens aged 18 years or older, and you may be fined if you don't vote.
Election timeline
Friday 28 August: Roll closes at 4 pm
Thursday 17 September: Candidate nominations open
Tuesday 22 September: Candidate nominations close at 12 noon
Tuesday 6 to Thursday 8 October: Mail-out of ballot packs
Friday 23 October: Voting closes at 6 pm
Friday 13 November: Latest date all results will be declared.
Election information
The Victorian Electoral Commission conduct elections on behalf of all Victorian councils.
For detailed and up to date information about how to enrol, vote, become a candidate, and more, visit Strathbogie Shire Council election on the VEC website, or call the VEC on 131 832.
The Electoral Office
The Electoral Office will be in the former State Emergency Service building, Bury Street Euroa (behind Council's offices in Binney Street).
To meet COVID-19 social distancing restrictions counting of votes will be undertaken at the Violet Town Community Complex at 35 Cowslip Street, Violet Town.
For more information about the election and the measures being taken to ensure everyone's health and safety during the COVID-19 pandemic, please visit the VEC's website.
Enrolment and Entitlement Information
You only have one voting entitlement per Council no matter how many properties you own or occupy. Click here to see information on who needs to enrol and vote and key election dates.
Further information about enroling for local council elections can be found on the VEC website.
To access in-language videos visit the VEC website here.
Useful Council documents