2018 Australia Day Awards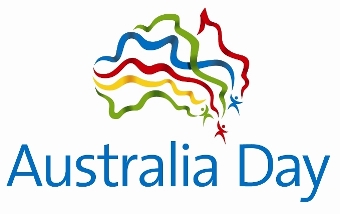 On Friday 26 January 2018, there will be Australia Day celebrations in Avenel, Euroa, Longwood, Nagambie, Strathbogie and Violet Town.
If you have any queries please contact Claire Hahnel, Economic Development Officer at the Strathbogie Shire Council on 03 5795 0000 or This email address is being protected from spambots. You need JavaScript enabled to view it. .
Award Nominations - are now closed.
Nominations closed at 5pm sharp Wednesday 1 November 2017.
Late nominations will NOT be accepted.
Nomination forms were available:
Online form - now closed
Avenel - General Store
Euroa - Council Office or Euroa Hub
Longwood - General Store
Nagambie - Visitor Information Centre
Strathbogie - Under the Sun Cafe & General Store
Violet Town - Post Office
Award Categories
Community Organisation of the Year
Community Event of the Year (event occurred after 27/01/2017)
Junior Citizen of the Year (under 15yrs at 26/01/2018)
Young Citizen of the Year (between 15-25yrs at 26/01/2018)
Citizen of the Year (over 25yrs at 26/01/2018)
Award Ceremonies - Friday 26 January 2018
There will not be a specific Shire-wide ceremony this year, however there will still be Shire-wide awards. The Shire-wide awards will be awarded to the recipients at their own town ceremony.
The Citizenship Ceremony will be held at the Longwood Australia Day Ceremony.
Avenel
Jubilee Park, Queen Street
9:30am Ceremony
10:30am Morning Tea
Guest speaker: Mr Carrillo Ganter AO
Mr Carrillo Ganter AO
Carrillo Gantner is a Victorian cultural leader and philanthropist and a member of the Melbourne retailing Myer family. He received the Order of Australia for his involvement in the performing arts and for fostering cultural exchange with Asia.
His most well-known achievement lies in the area of founding theatres and theatre companies. He founded the Playbox Theatre in 1976 and in the late 1980s was the driving force for the building of the Malthouse Theatre complex which opened in 1990. He was President of the Myer Foundation 2004-2010 and is currently Chairman of the Sidney Myer Fund, the Myer family's two philanthropic arms.
The government appointed him as Chairman of The Melbourne International Arts Festival from mid-2010. He was Chairman of the Melbourne International Comedy Festival for six years to March 2000, Chair of the Performing Arts Board and a member of the Australia Council 1990-1993. He was a member of the Australian International Cultural Council (chaired by the Minister for Foreign Affairs) for three years until 2003. Until 2002 he served for three years as a member of the Cultural Network of the Australian National Commission for UNESCO. He has held many positions in theatre and the arts in Melbourne and was awarded Victorian of the Year in 2007 and Senior Australian of the Year also in 2007.
Euroa
RSL Park, Kirkland Avenue
12:00pm Ceremony
1:00pm BBQ
Guest speaker: Mr Matthew Albert
Mr Matthew Albert
Matthew Albert is the co-founder of the Sudanese Australian Integrated Learning (SAIL) Program, a volunteer, non-profit, secular organisation that provides free English support and community services to the Sudanese refugee community in Melbourne, Sydney and Perth. The program now has 500 people attending each week at the three campuses.
Matthew was awarded the Victorian Young Australian of the Year in 2005, as well as being named one of the ten Outstanding Young People of the World by the Junior Chamber International.
Matthew was selected by the Australian government to be Australia's Regional Youth Caucus (RYC) Representative in 2005 and continued in this role until 2008. He has represented Australia and the Pacific region at international meetings in Fiji, Samoa, the Solomon Islands, the Bahamas, Uganda, the Cook Islands, Sri Lanka, Trinidad and Tobago, French Polynesia and Tonga.
In 2008, Matthew was elected to the position of Pan-Commonwealth Youth Caucus Chairperson. In that capacity, Matthew chaired the Commonwealth Youth Forum in Trinidad and Tobago in 2009 and Uganda in 2007.
Matthew is a founding trustee of the Charlie Perkins Scholarship Trust and a board member of the Wesley Institute for Innovation in Education, Liberty Victoria, the International Commission of Jurists – Victoria and Right Now publishing among other non-profit organisations.
Matthew completed his undergraduate degrees at the University of Melbourne and his postgraduate degree at the University of Oxford, UK. He practices full-time as a barrister and is a senior fellow of the Melbourne University Law School.
Longwood
Longwood Recreation Reserve, Down Street, Longwood
5:00pm Children's games
6:00pm BBQ
7:00pm Ceremony - including Citizenship Ceremony
Guest speaker: Mr Richard Rozen OAM
Mr Richard Rozen OAM
Born in Poland, Mr Rozen was six when he hid with his parents in a cupboard for 13 months before being forced to move to the Lubin Ghetto when their money ran out. Destined for the Treblinka Extermination Camp, the Rozencwajg family was smuggled to the safety of a Polish village where Richard spent several months disguised as a girl using the name 'Marisa Ulecki'.
After moving around eastern Europe for several years (and unfortunately losing his father), he and his mother permanently moved to Australia in 1951 and studied, at 17, Electrical Engineering at RMIT.
Nagambie
Rear of Nagambie Library, Cnr High & Vale Streets
9:30am Sausage sizzle BBQ
10:00am Ceremony
11:00am Sausage sizzle BBQ
Guest speaker: Mr George Ermer
Mr George Ermer
George was born 30th November 1937 in Budapest, Hungary.
He arrived in Australia 1950 and attended Northcote High School for 3 years, becoming an Australian Citizen in 1954; he performed his National Service in the RAAF in 1956 at Laverton.
George is married for the second time, and has 4 children and 6 grandchildren. After leaving school, he sold electrical goods, before moving on to new Holdens as Victoria's top salesman in 1959. He left the industry in 1961 when the credit squeeze hit having just been married, so joined a meat company and spent 3 years in Broken Hill then Melbourne and Sydney.
In 1976, he started Seattle Meats and stayed in the meat industry until 2007. While in the meat industry George had experience in the Hospitality Industry as part owner of a couple of hotels and a restaurant.
He served on the Victorian Board of The Variety Club as Vice Chairman as well as on the National Board. He was a Board member of Kids Under Cover for 11 years, and was made a Life Ambassador in 2008 when he retired from the board.
Strathbogie
Strathbogie Memorial Hall, Main Street
9:30am Ceremony
10:30am Morning tea
12:00pm BBQ
Guest speaker: Associate Professor Debra Bateman
Associate Professor Debra Bateman
Associate Professor Debra Bateman is a passionate and committed educator. She has worked across educational sectors, including schools and Universities. Debra's research has focussed on how young people think about their futures, and the important role that schools and communities play in disrupting taken for granted notions of what is possible and probable in their lives.
Debra is passionate about generating pathways and educational opportunities for all students, and building the capacity of teachers. She is the Director of the Learning and Teaching Academy and a Board Member of RMIT University. Debra is particularly proud of the diverse entry points for students from varied backgrounds and opportunities.
Debra is a strong advocate and Board Member of the Victoria Police Blue Ribbon Foundation, an organisation which builds living memorials for and with communities in the name of Police Members who have died in the line of duty. She is also a representative of Victoria Police Legacy. Her sustained connections to these organisations have arisen as a result of her own husband's death, whilst on duty in 2000.
Debra is a proud Australia Day Ambassador. She embraces the opportunity to acknowledge Australia's long indigenous histories and our journey since European settlement. Australia Day, for Debra, is a shared opportunity to reflect upon moments of being Australian and shared chances to consider how each of us can work towards better tomorrows.
Violet Town
Violet Town Community Complex, 36 Cowslip Street
7:30am Breakfast
9:00am Ceremony
Guest speaker: Christine Unsworth OAM and Mr Keith King
Ms Christine Unsworth OAM
Christine Unsworth was, until her retirement 4 years ago, the director of the Royal Children's Hospital Good Friday Appeal – having overseen the community contribution of $160 million to the hospital during her 16 years tenure.
A 26 year long association with The Royal Children's Hospital saw Christine hold positions of Executive Director of the hospital's Foundation. Public Relations Manager and Coordinator of Volunteers and Auxiliaries. She continues to be passionate about the work of the hospital and is a true advocate in the community.
In recognition of her work, Christine was awarded the ANZ Bank Travelling Scholarship, enabling her to visit and learn from volunteering and fundraising organisation in America and Canada.
Christine was also awarded the prestigious Royal Children's Hospital Chairman's Medal. The citation for the Chairman's Medal described her as "dedicated, astute, innovative, energetic, efficient, diplomatic, vibrant and passionate – admired for her ability to mix with everyone as much at home in a country pub as in a Board room."
The highlight of her career was to be honoured with an AM in the Australia Day Honour in 2014.
Christine's focus has always been community and she has held many positions both voluntary and professional in the area.
Mr Keith King
Keith's outstanding breadth of experience in the aviation industry has spanned forty-two years supporting many thousands of staff for TAA, Australian Airlines, Qantas and Jetstar. In addition, there are many more thousands of customers who were skilfully converted into airline advocates through Keith's customer service talent and compassion.
Keith's contribution to aviation customer service was recognised when he was awarded the 'International Customer Service Associations Inaugural' (SOUL) Award in Las Vegas, Nevada USA. To this day Keith remains the only Australian to have ever received this award and through his reputation, has delivered customer service training programs throughout Australia, New Zealand and also the USA.
Keith was awarded life membership of the RSPCA in recognition of his many years of service to animal welfare.
Past Australia Day Award Winners
Click here to view past Australia Day Award Winners