Grading Program
Council is responsible for the maintenance of approximately 1500km of gravel roads.
Council's Road Management Plan requires that roads are inspected regularly and, if their condition is outside pre-determined defect levels, those roads are prioritised and programmed for maintenance.
The grading program employs two graders working across 24 zones of rotation basis. The graders will usually work in adjacent zones for two weeks and during that time grade the roads that are programmed.
The grading program in the link below is the planned schedule for grading for the next rotation of 2017 and will be updated for the remainder of the year after adoption of the budget.
This schedule may be referred to as a guide to see when graders are expected to be operating in each zone. It should be noted, however, that the program is dependent upon weather and other factors and is subject to change. Also it should be noted that not all roads in each zone will be graded in each rotation. The graders are scheduled to rectify defects previously logged. Roads without defects above the pre-determined levels will not be scheduled for grading.
Zero to 1 Grading Program
Council's $400,000 ongoing road maintenance program will soon take place, upgrading almost 70 Class 0 roads to Class 1 in the Road Management Plan.
This funding is complemented by additional maintenance and renewal funding for these roads over time.
Over the next year, 66.9 kilometres of road will be reclassified from Class 0 to Class 1.
Of these, approximately 33 kilometres will be upgraded in 2017-18 to be able to be maintained at the Road Management Plan Standard.
A further approximately 33 kilometres will also receive maintenance at the Road Management Plan standard.
These works will be undertaken by an additional grader, with $150,000 allocated to increase the frequency of maintenance grading and a further $100,000 for emergency works on unsealed roads, as required.
See the complete list of roads to be upgraded below: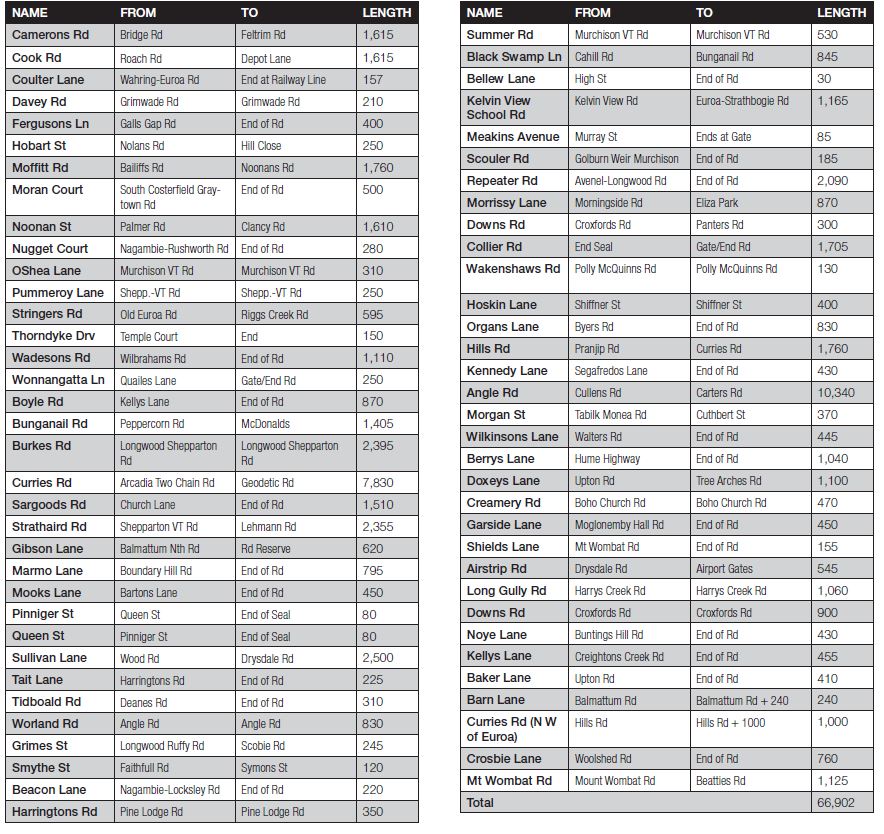 Click here to open the Work Zone Map and Grading Schedule
To log a request for works to be performed please contact our Customer Contact Team on 1800 065 993 or via This email address is being protected from spambots. You need JavaScript enabled to view it. . Alternatively you can log a request through the "Report an Issue" button on our website homepage.