Development
The Strathbogie Shire is a progressive and vibrant destination to live, work and invest. We are a pro-development organisation, who have fostered and supported many new developments currently being established right throughout our Shire.
Projects and Works have been hard at work constructing brand new footpaths in and around Euroa. Below are some of the more recent footpaths now accessible to the public..
Kirkland Avenue, Euroa
A request was made to Council to construct a concrete footpath on Kirkland Avenue from the Railway Street side to the existing Uniting Church. Due to increasing acccess to the church, with many pedestrians making their way from the railway underpass on Railway Street, this new path has recently been completed and has addressed the crossing area over the kerb and gutter at Railway Street and is 1.5 metres wide. This path width will assist passing for pedestrian traffic and other footpath users. It was also very timeley that the new NBN node was fitted and the Telstra pit repaired at the corner of Railway Street and Kirkland Avenue, before the new path was constructed. This footpath was an item from the 2016-17 Budget.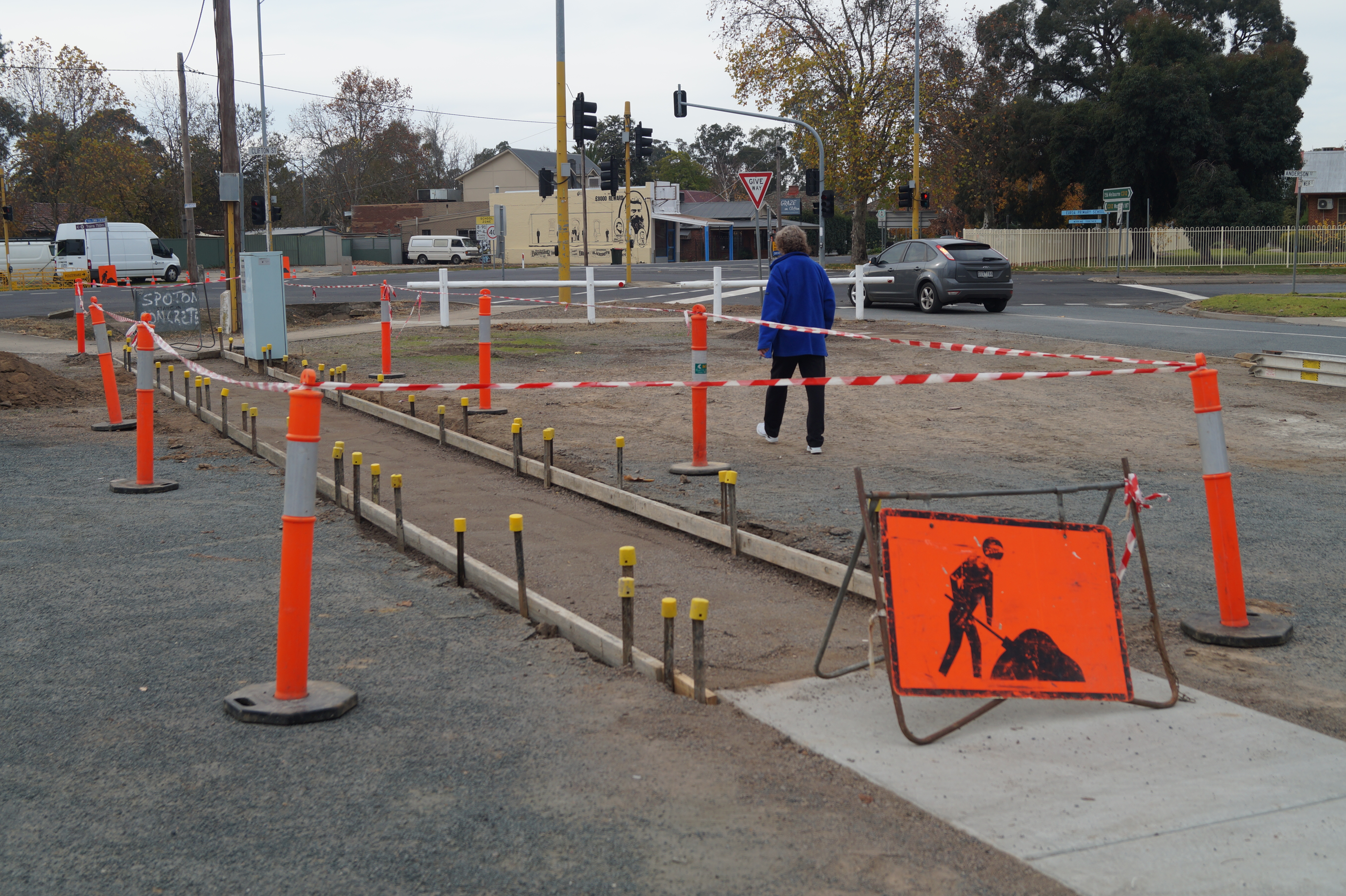 Weir Street, Euroa
A widened 1.5 metre concrete path has replaced the old narrow path, upgrading part of the link from Euroa Health/Granite Hill aged care facility to the Euroa Corner Store and towards the Euroa township and nearby schools.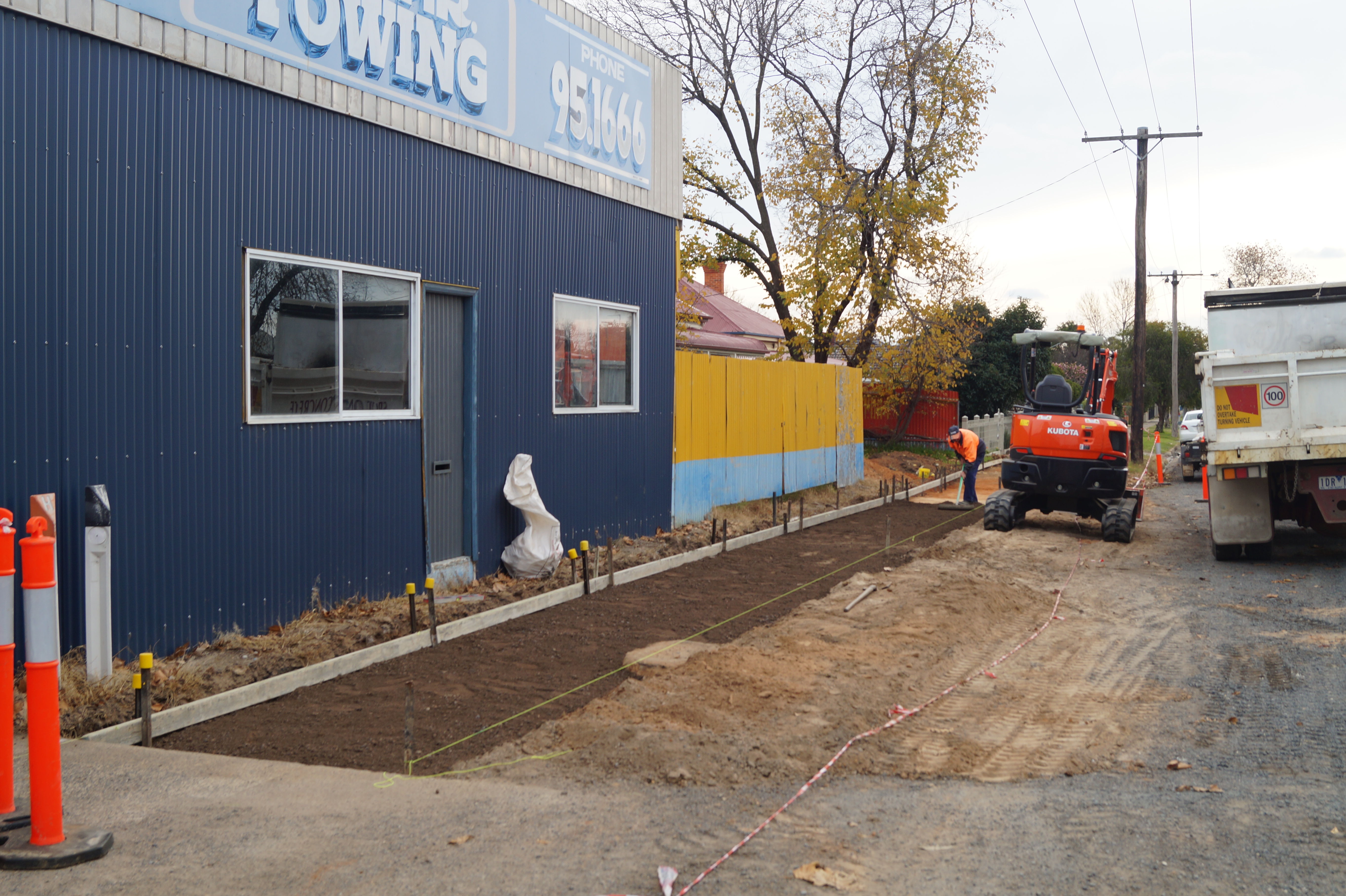 Anderson Street, Euroa
A new 1.5 metre concrete path link is being constructed between the existing traffic lights at Clifton Street and the path in front of houses (some 50 metres north-west), upgrading the potentially ponding gravel areas.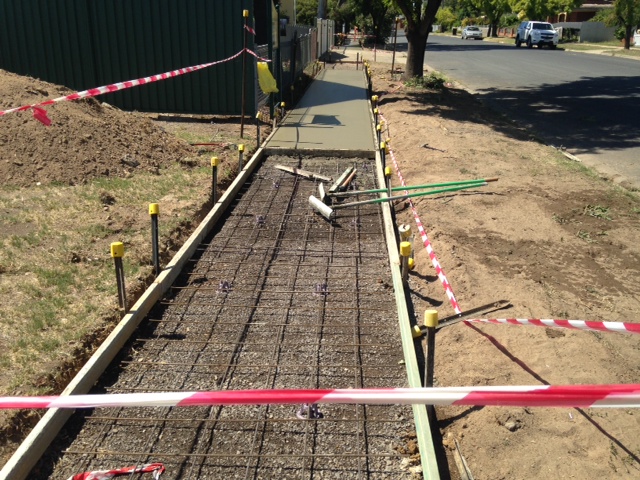 Concrete pour on McGuinness Street, Euroa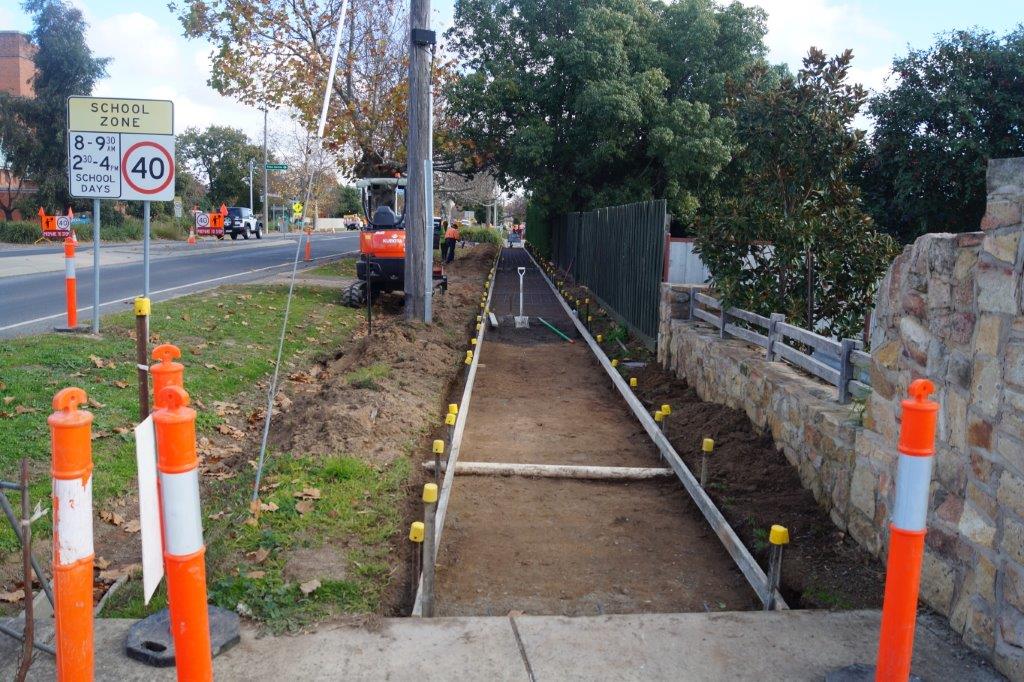 Clifton Street, Euroa
A footpath is currently being constructed partly along Clifton Street, up until the corner of Binney Street in Euroa.
Current Road Works
Grading Program
Click here for more information on the current grading schedule
Resheeting At Bartons Lane, Creightons Creek
Bartons Lane has been resheeted with gravel to improve the condition of the road.
Project Date: February 2017
Project Cost: $38,000
Completion Date: Friday 3rd February 2017

Resheeting at Longwood-Mansfield Rd, Creightons Creek
Longwood-Mansfield Road has been resheeted with gravel to improve the condition of the road.
Project Date: February 2017
Project Cost: $52,000
Completion Date: Tuesday 7th February 2017
Works Alert from VicRoads
Bridgeworks on Hume Freeway south bound Creightons Creek South Bound Bridge, south of Euroa
Bridgeworks on the Hume Freeway south bound Creightons Creek Bridge, south of Euroa will start on Monday 22nd May.
The work will see one lane of the bridge closed to traffic on the Hume Freeway south bound carriageway.
The work is expected to take less than one week to complete, weather permitting, with work scheduled from 7am - 5:30pm on week days.
Reduced speed limits will be in place through the work zone. Please plan your travel accordingly.
VicRoads thanks road users for their patience while these important works are being done.
Please observe and comply with the changed traffic conditions for your own safety, the safety of other road users and the safety of our workers.
Check out our latest buildng works below in various Council-owned assets throughout the Shire: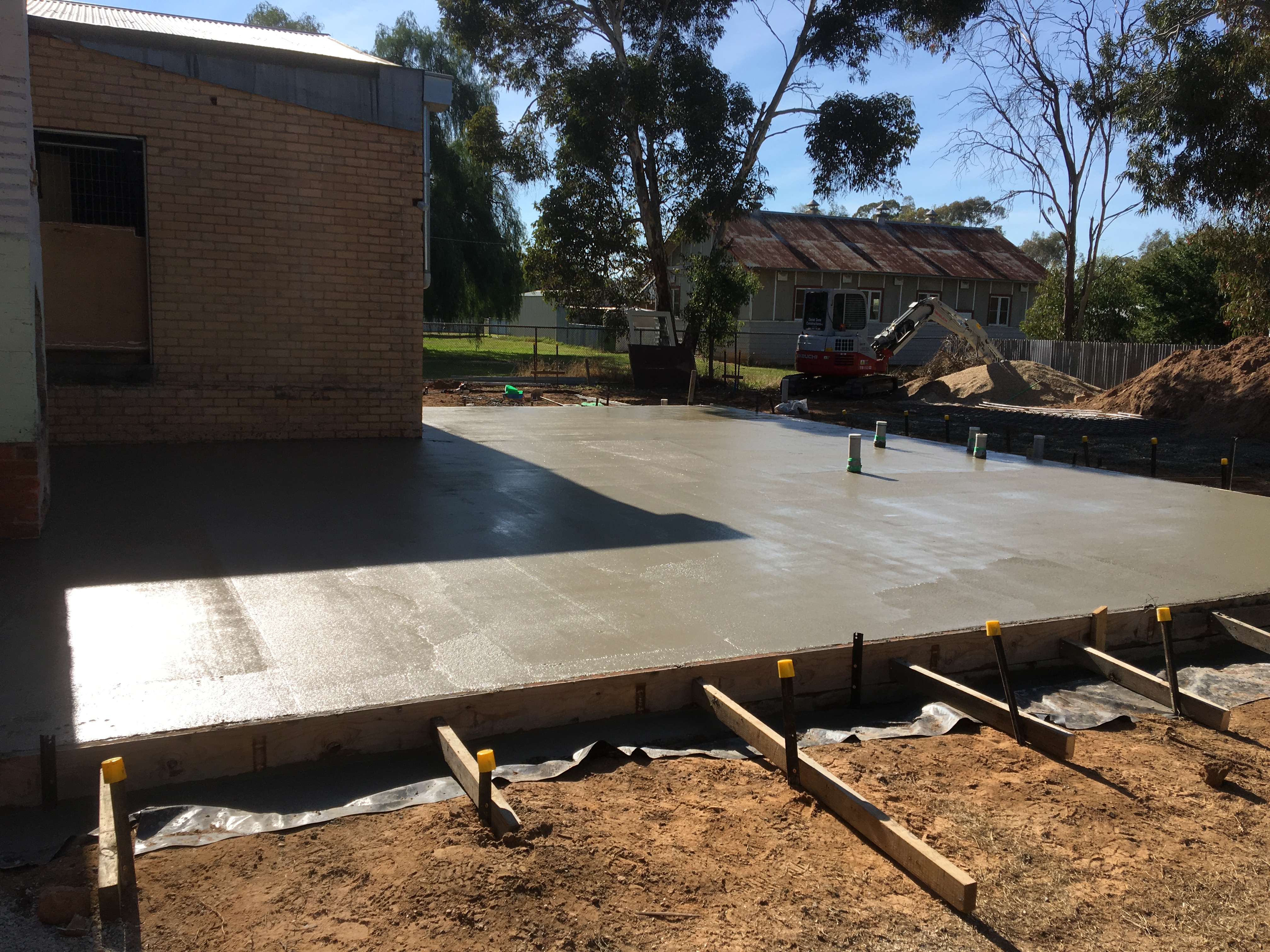 Avenel Hall expansion, $400,000 project
Major works are underway on the 100-year-old Avenel Memorial Hall, with the construction of three new meeting rooms, which will be located at the rear of the renovated hall. The extension is currently in its timber framing stage.
Avenel Hall expansion - Renewal of main toilets
The $400,000 project is made up of $300,000 from the State Government's Regional Jobs and Infrastructure Fund and $100,000 from Council.
Council has also separately funded the indent of footpath and carpark sealing in front of the hall in the 2016-17 Capital Works Program, worth $36,000.
The project is expected to be complete by November this year.
Current Works
Keep up to date with current works within the Strathbogie Shire.
---
The Environmental Health Department is responsible for ensuring that businesses such as restaurants, cafès, motels, hotels, B&B
Wanting to develop or invest in Strathbogie? This is your one stop shop for information on Planning in the Strathbogie Shire.
Council's Building Department is responsible for the administration and enforcement of the Building Act 1993 and the Building Regulations 20
Do you have a business? The Strathbogie Shire Council recognises the importance of businesses from all industries and of all types and size
Strategic planning focuses on supporting the growth in residential, commercial, industrial and Rural Living development within the municipal