Tuesday, 27 June, 2017
A new program focused on maintenance of rural roads and an innovative push to grow the region are just some of the highlights of Strathbogie Shire Council's 017-18 Budget and 2017-2021 Council Plan, which was officially adopted on Tuesday, 27 June, 2017.
Rates will remain capped at two per cent, with an exciting incentive to help grow the Shire where those eligible for the State Government's First Home Owner's Grant ($20,000) receiving two years' rate free if they invest in the Shire.
Mayor Amanda McClaren said Council understands the Shire has been known as a high rating municipality in the past and a significant part of the rates revenue each year is committed to assets and infrastructure maintenance.
"The Strathbogie Shire is a large area of over 3300 square kilometres with over 2500km of roads, 507 bridges and culverts as well as over 160 buildings to maintain both now and into the future," she said.
"Council recognize that to share the increasing costs, we need to grow and attract new residents, so this innovative 'Rates Holiday' for First Home Owners will help the Shire grow."
The sum of $500,000 has been committed to a significant new program upgrading Class 0 roads to Class 1 in the Road Management Plan, so that they can be regularly maintained.
Cr McClaren said the commitment was in addition to the regular roads management budget allocation, aimed at improving road access for rural ratepayers with a 'Roads to Market' economic approach.
About 67km of these priority roads will be re-classified, with half that amount to be upgraded within the next 12 months.
Council's continued commitment to roads in 2017-18 also includes the following areas: road re-seals ($1.12 million), road rehabilitation ($1.309 million), road re-sheeting ($460,000) as well as bridge work ($3.443 million) and footpaths ($272,000).
The new Budget, Council Plan and Strategic Resource Plan come eight months after the new Council was elected, with Councillors working hard at engaging with the community in a number of ways to form the Council Plan, which will help guide Council over the next four years.
The community engagement campaign conducted by Council saw a series of Conversation Cafes take place throughout the region, online surveys and postcard submissions as well as numerous one-on-one meetings with ratepayers and a public submission process.
"Council wishes to thank all of the community who were actively involved in this strategic planning process. The Council Plan is full of ideas and initiatives that came directly from our community during the engagement processes," Cr McClaren said.
Among these ideas are a number of sustainable projects, including:
Sustainable Strathbogie 2030 - Council will have one reference document, with targets monitored by a Reference Group. The aim is to outline the principles, priorities and actions required to address Council and community on living sustainably into and beyond the next decade.
Recruitment of a Grants Officer - Council will employ a Team Leader - Tourism, Arts and Culture, who will manage and promote the grants program.
An Action Plan to reduce the use of plastic bags.
Incorporate the Gaming Policy Statement into the Municipal Strategic Statement.
Council has also revised its Strategic Resource Plan, which will establish a financial framework over the next four years to ensure Council's strategic objectives are met.
Among the key infrastructure items in the 2017-18 Budget are:
Kirkland Avenue footpath between Scobie and White streets, Euroa - $86,000
Nagambie Recreation Reserve amenities upgrade - $50,000
Tourism, Arts and Culture Strategy - $40,000
Memorial Oval Netball Court - $50,000
Violet Town Recreation Reserve toilets - $100,000
The 2017-18 Budget, 2017-2021 Council Plan and the Strategic Resource Plan can be viewed now on Council's website www.strathbogie.vic.gov.au.
Tuesday, 20 June, 2017
Local café and produce store Fare Enough has made the environment a high priority in their operating procedures.
They have become so efficient with their waste management that they are ordering a second recycling bin through Strathbogie Shire Council.
Owners and operators Bibby and Carl Simmons are strong advocates for reducing their carbon footprint.
"We are really trying to recycle more and being more careful about the products we use and how we dispose of them," Bibby said.
Working in such a busy store, they are finding an excess of milk cartons, bottles and cardboard has led to the need for another recycling bin.
Fare Enough also utilises the green waste bins provided by Council, which they find great for their coffee grounds and food scraps.
"It took a little while to get a system in place, but now that we have a good system and our staff are on board it is really great," Bibby said.
Fare Enough doesn't use any plastic bags, preferring paper bags, which they encourage their customers to reuse, and use bamboo plates and cutlery for catering, which are cleaned and reused.
They are jumping on board with reusable coffee cups, or Keep Me Cups, and will be purchasing these very shortly.
They are also looking into other sustainable practices including installing solar panels, which will be considered further down the track.
Owner of the Cherry Tree Café, Noel Welsh, is also on board with the Keep Me Cups, with an order on the way in the coming days.
Those who use a Keep Me Cup will get a discount on their coffee at both Fare Enough and the Cherry Tree.
"It's a win-win situation for everyone, looking after the environment and reducing costs for businesses" Noel said.
Both businesses are setting a great precedent for waste management and sustainable practice in the Shire.
Fare Enough owner Bibby Simmons (right) has embraced recycling at her Euroa store, purchasing a second bin to reduce her carbon footprint. She is pictured with Fare Enough employee Michelle Jesser.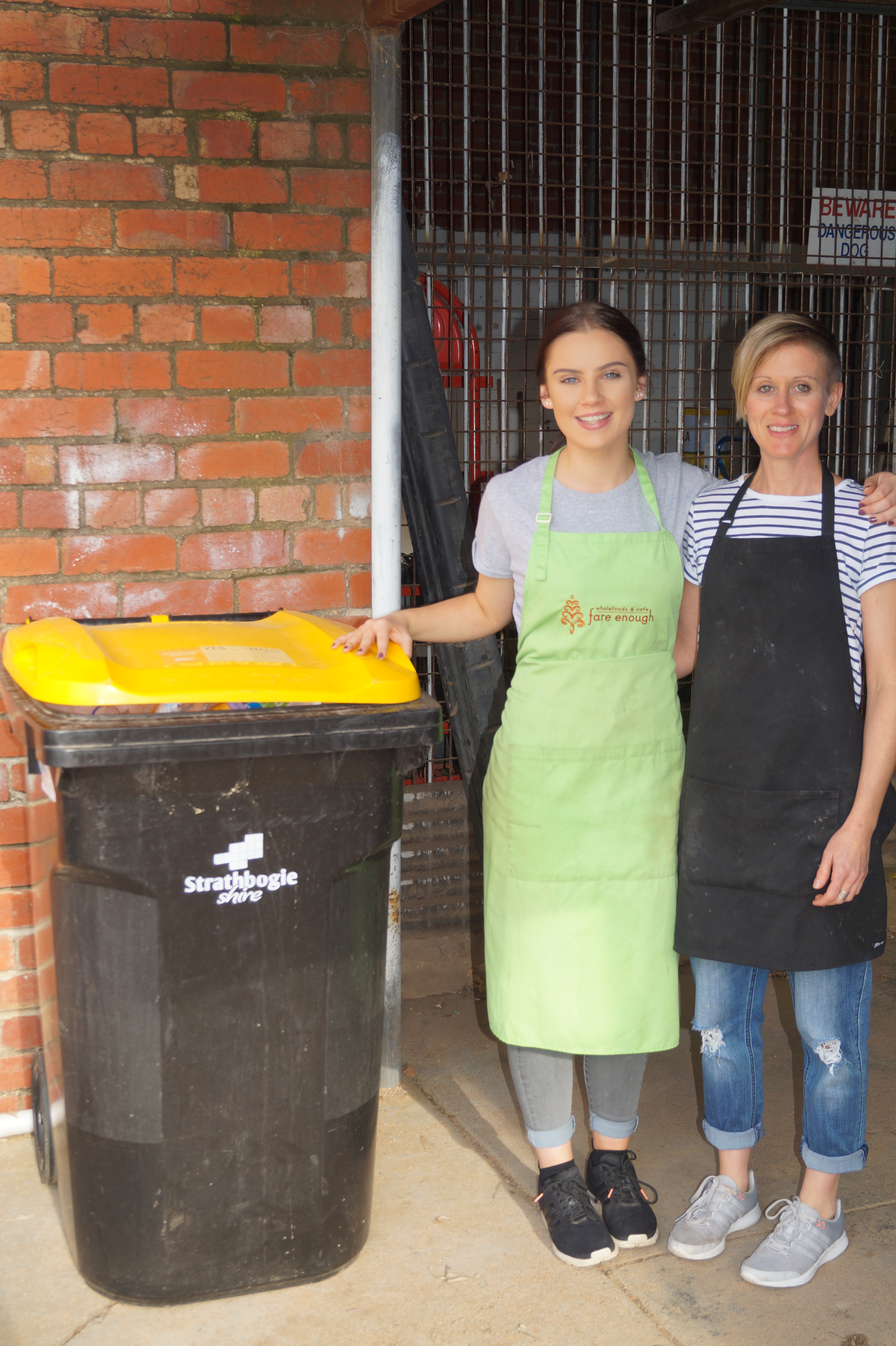 Monday, 19 June, 2017
With a clear indication that greater Victorian Government support is needed to help councils maintain and upgrade local roads, Strathbogie Shire Council has a plan in place to categorize those rural roads in dire need of repair.
Following recent local government community satisfaction survey results stating that additional road funding is needed, the Municipal Association of Victoria (MAV) said the survey results showed a correlation between higher performance scores (where the state is investing in local infrastructure) and a decline in Council performance where state investment has been withdrawn.
In Council's 2017-18 Draft Budget, a commitment is in place to move all zero rated roads to category one rated roads – which means they will receive maintenance which they haven't in the past.
Strathbogie Shire Mayor Amanda McClaren said with a Shire of over 3300sq/m and over 2250km of road networks, it's a "massive task" to keep all roads to a standard expected by the community.
"As Council is now in a strong financial position, it will continue to concentrate on upgrading the standard of its road network," she said.
"We would hope that some money from the sale of the Port of Melbourne will flow through to the 38 rural councils to invest on upgrading and maintaining its infrastructure."
She also said while Council has received less state funding for country roads and bridges, the Federal Government has increased and committed to the Roads to Recovery funding program.
State Member for Euroa and Deputy Leader of the National Party Steph Ryan said she often received calls from people across the electorate who were concerned about the condition of local roads, desperate for some kind of improvement.
"Strathbogie Shire and every other rural Council in Victoria lost $1 million a year for country road maintenance when the Country Roads and Bridges program was scrapped," she said.
"Many roads in Strathbogie have fallen into disrepair as a result of this funding shortfall."
She said she called on the Andrews Government to reinstate the funding program because if they fix country roads, they save country lives.
Thursday, 15 June, 2017
Residents of Euroa and surrounds in need of better internet services fear not – NBN is coming soon.
The National Broadband Network has been busy installing infrastructure of above and below ground equipment at nine, 'fibre to the node' (FTTN) cabinets in and around the Euroa township.
A Fibre Access Node (FAN) facility will also be located inside the Telstra Exchange building on McGuinness Street in Euroa.
The main cabinets being installed are powered hubs that are capable of connecting between 300-400 homes in fixed-line areas.
They house equipment which transmits the high-speed broadband signals, with the distribution and local cables entering the node from underground.
The nodes/micronodes are green in colour and stand on a concrete plinth and are fed by the fibre network and connect into the existing copper network.
Below are the seven node and two micronode locations around Euroa, all located within the road reserves (nature strips):
 33 Templeton Street (Node)
 62-64 Tarcombe Street, but physically located on Vidler Street (Micronode)
 124 Binney Street (Node)
 15 Weir Street (Node)
 19 DeBoos Street, but physically located on Williams Street (Node)
 5 Balmattum North Road (Micronode)
 Opposite 30 Frost Street, buy physically located on Rowe Street (Node)
 24A Brock Street (Node)
 3 Mansfield Road (Node)
While the NBN installation is still ongoing, it will be a while yet until residents can benefit from the improved internet connectivity.
Mayor Amanda McClaren said Strathbogie Shire Council were pleased to see the residents of Euroa will benefit from improved high speed internet services with the recent roll-out of NBN in Euroa.
"We recognise the importance of internet connectivity and mobile phone coverage for our communities and will continue to lobby for improved services for our Shire residents," she said.
For more information on NBN and to keep updated with its progress, visit www.nbnco.com.au/connect-home-or-business-check-your-address/bc-fl-home.html.