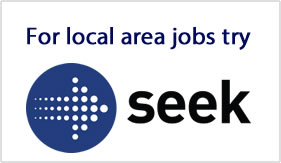 For careers with the Strathbogie Shire Council, please view the below positions.

If you are seeking employment in our wonderful local area, please check www.seek.com.au
---
About the Strathbogie Shire Council
Our Organisation:
Strathbogie Shire is an excellent lifestyle choice for those seeking less commuting time, flexible work environment and a more balanced lifestyle.
Our Council is a vibrant and progressive rural municipality advantageously positioned within two hours from the Melbourne CBD along the Hume Freeway and within immediate proximity to major regional towns of Seymour, Shepparton, Wangaratta and Benalla offer all of the facilities, retail and entertainment opportunities you would find in a capital city but with the peaceful country attitude.
Our townships, surrounded by picturesque natural environment, include Avenel (famous for Fowles Wine, Bank Street Pizza, WB Gadd and Avenel Meats), Euroa (home of three VC winners, the Butter Factory, Lindsay Park Racing and the Strathbogie Ranges), Nagambie (Black Caviar statue, world class wineries, Nagambie Lakes with the Rowing Regatta Centre and excellent fishing places) and Violet Town (Violet Town Market with great food and wine) offer access to a range of school options, excellent sporting facilities and clubs, Community Cinema, lots of options for joining local groups and clubs and much, much more…
Employee Benefits:
Working in Strathbogie Shire, employees enjoy a range of staff benefits including flexible working arrangements, free on-site parking, Study Assistance and Professional Development Program, Employee Assistance Program, Health and Well-Being Program, Social Club, comprehensive Income Protection and Health Insurance schemes.
Strathbogie Shire is committed to the Equal Opportunity and Child Safety Principles.
---
Carpenter/Handyman
Full – Time, Ongoing.
Salary Classification: Victorian Local Authorities Award 2001 Band 4
About the Role:
We are looking for a suitably qualified and experienced Carpenter/Handyman to estimate, plan and carry out maintenance works on Council's assets including buildings, structures and utilities. The successful applicant will have sound trade skills complemented by relevant trade certificates. Experience in supervising staff including the provision of the on - the job training and knowledge of the Workplace Health and Safety practices are essential for this role.
How to Apply:
Applications must include a cover letter, current resume and the statement addressing the key selection as outlined in the position description. Applications must be submitted by 5:00 pm Wednesday, 24 January 2018 and addressed to:
Phil Howard
Director Innovation and Performance
Strathbogie Shire Council
PO Box 177
EUROA VIC 3666
Alternatively, you may submit your application via This email address is being protected from spambots. You need JavaScript enabled to view it.
For further information about this position, please contact Bob Foster, Works Superintendent on 57950076 or 0438348774.