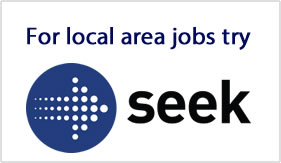 For careers with the Strathbogie Shire Council, please view the below positions.

If you are seeking employment in our wonderful local area, please check www.seek.com.au
Group Manager, Corporate and Liveability
Permanent Full-Time
Our Organisation:
Strathbogie Shire is an excellent lifestyle choice for those seeking less commuting time, flexible work environment and more balanced lifestyle.
Our Council is a vibrant and progressive municipality, advantageously positioned within two hours from the Melbourne CBD along the Hume Freeway and within immediate proximity to major regional towns of Seymour, Shepparton, Wangaratta and Benalla, offer all of the facilities, retail and entertainment opportunities you would find in a capital city but with the peaceful country attitude. With affordable housing at a fraction of Melbourne prices, you can enjoy prosperous investment opportunities.
About the Role:
This is a pivotal senior role that appeals for an exceptional combination of operational excellence across a diverse range of Council services and strategic insight of the futuristic Corporate Planning and Vision.
Reporting directly to the CEO, and contributing as a member of the Executive Management Team, you will be responsible for leading Council's finance, information and communications technology, records, GIS, council business, governance, statutory services and liveability functions.
Your distinctive communication and presentation skills along with the appreciation of political astuteness will emphasise your ability to immediately establish credibility and confidence at all levels including elected Councillors, Mayor, key stakeholders and a larger community.
Tertiary qualifications in Law, Business or Governance are essential as well as extensive relevant experience at a senior level and demonstrated staff and budget management responsibilities.
An attractive remuneration package for this position includes a fully maintained private vehicle and will, essentially, commensurate with a set of skills, qualifications and experience of the successful applicant.
How to Apply:
Applications addressing the key selection as outlined in the
position description
must be submitted by COB
Wednesday, March 15, 2017
and addressed to:
Phil Howard, Director Sustainable Development/Deputy CEO via This email address is being protected from spambots. You need JavaScript enabled to view it. .
For further information about this position, please contact Phil Howard, Director of Sustainable Development/Deputy CEO on (03) 5795-0000.
Strathbogie Shire is an Equal Opportunity Employer committed to the principles of workplace diversity.
---
School Crossing Supervisor - Nagambie (Re-advertised)
Job Location - St Joseph's Primary School Nagambie
Salary Classification - Band 1 Local Authorities Award 2001
Casual Position
Monday to Friday (School days) for approximately 2 hours each day (1 hour each morning and evening)
Strathbogie Shire Council is looking for a dedicated School Crossing Supervisor to join the Asset Unit to effectively and efficiently control the safe and orderly passage of school children and others across designated school crossings.
The successful applicant will be required to attend school crossings to ensure compliance with the Road Safety Regulations and to educate children and other users of the crossing of the correct procedure and use of the school crossing.
Strathbogie Shire Council is committed to ensure community safety and a satisfactory Working with Children Check is compulsory for this position.
A position description and further details is available from Wendy Lunghusen, PA to Director Asset Services on (03) 5795 0000 or click here to download.
Applications addressing the key selection criteria as outlined in the position description must be submitted by COB Wednesday, 22 February 2017 and addressed to:
Phil Howard
Deputy CEO/Director of Sustainable Development
Strathbogie Shire Council
PO Box 177
Euroa VIC 3666

Alternatively, you may submit your application via This email address is being protected from spambots. You need JavaScript enabled to view it.
Work Experience
As a community partner, Strathbogie Shire Council recognises the importance of on the job practical experience in developing the career direction of students within the region.
Where possible, within the constraints of available resources, we encourage our Departments to participate in work experience programs by undertaking placements, and providing the required workplace education and supervision of students.
Click here to download information on applying for work experience