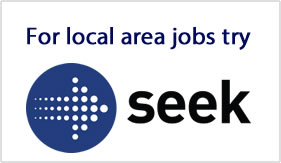 For careers with the Strathbogie Shire Council, please view the below positions.

If you are seeking employment in our wonderful local area, please check www.seek.com.au
Projects Support Officer - Casual
Location - Euroa
Remuneration in accordance with the Victorian Local Authorities Award 2001 - Band 3
Strathbogie Shire Council is looking for an enthusiastic engineering student with an aptitude to apply Civil Engineering principles to join our dynamic Assets Team as a Project Support Officer for two periods - Winter and Summer semester breaks.
In this role, you will be accountable to the Strategic Assets Co-Ordinator in the provision of the support in road & bridge construction and maintenance projects, preparing engineering specifications, administering road opening and crossover permits, assisting contract supervision.
To be successful, you will be able to demonstrate:
Progress towards completion of tertiary qualifications in Civil Engineering.
Basic technical skills, including sound surveying skills.
Some knowledge of budgeting and estimating computations.
Effective interpersonal skills, incorporating verbal and written communication, and a proven capacity to work effectively with a wide range of stakeholders.
Current Victorian Driver's Licence
Knowledge of Civil Engineering computer design, AutoCAD and Total Station and/or previous experience working in Local Government environment would be highly advantageous.
Applications addressing key selection criteria as outlined in the position desciprtion must be submitted by COB Wednesday 3rd May 2017 and addressed to:
Phil Howard
Director Sustainable Development/ Deputy CEO
PO Box 177
Euroa VIC 3666
Alternatively, you may submit your application via This email address is being protected from spambots. You need JavaScript enabled to view it.
For further information about this position please contact Uwe Paffrath, Strategic Assets Co-Ordinator on (03) 5795 0000.
For a Position Description please click here
Work Experience
As a community partner, Strathbogie Shire Council recognises the importance of on the job practical experience in developing the career direction of students within the region.
Where possible, within the constraints of available resources, we encourage our Departments to participate in work experience programs by undertaking placements, and providing the required workplace education and supervision of students.
Click here to download information on applying for work experience